U.S. U14 BNT Camp hunts for goal-scoring
June 20, 2011
by: IMGSoccer1
Article Written By Jahmal Corner, ESNN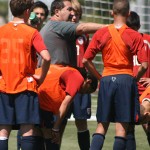 CARSON, California - And so they gather for a final time, the future once again present for a week of study and evaluation.
The U.S. U14s are back at the Home Depot Center for an all-important get-together that will mark the final meeting of the year for this group.
Coach Manny Schellscheidt has invited a slightly larger than usual group of 40, made up mostly of the same core that visited Carson last month.
The goal for this week is a simple one: it's, well ... goals.
"At this stage it's more about the attacking end of the game than the defending end," said Schellscheidt, following the team's second training session of the week. "I think that's (Senior National Team coach Bob Bradley's) biggest concern, and everyone's ... it's where are the goals coming from?
"We see all these games that are getting played from box to box but in front of the goal not much is happening. So I think this camp is titled more toward the talent then the organized part and structure."
So with that, Schellscheidt will turn his young talent loose - to an extent - and try to find the players who have "it," with "it" being whatever we don't have enough of - primarily, whatever "it" is that produces goals.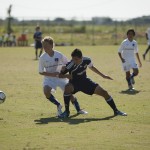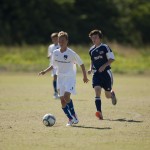 There are plenty of intriguing players from last camp and a few new faces as well, including players like: Josh Perez, Maduabuchi Obinwa, Daniel Crisostomo, Edward Venta Yepes, Jonathan Klinsmann, Jacob Hernandez, Remington Pimm, Orestis Sousonis, Kyle Zajec and John Antunes.
A staple of every national camp is the emphasis on faster play, and quick, decisive decision-making. That in itself is part of the solution to producing more offense.
The boys got after it Monday during 11v11 short-field scrimmages that limited the players to just a couple of touches per possession.
U14 camp holdover Benjamin Swanson is further along in this respect than some of his peers. Swanson is very efficient with his touches in the midfield and showed great form all day.
Striker Marc Calderon is a forward who competes with passion and can be dangerous with the ball. He, along with all of his fellow campers, pushed the pace.
"We want to play fast," said midfielder Coy Craft. "A lot of us are used to the way we play with our club teams so we're just trying to cut down the passes and play good soccer."
It's more challenging than it sounds, particularly when the camp first starts and players arrive towing the baggage of all of their old habits.
"The first day you want to get out all of your mistakes, and after that you keep progressing throughout the week," said defender Tommy Redding. "It gets easier after a while, you start getting used to the speed, you find people and get to spots faster."
Hopefully, that includes the one spot in particular U.S. Soccer is looking to get to more frequently - the back of the net.
U.S. U14 Boys National Team Camp Roster
GOALKEEPERS (6): Christian Herrera (Strikers FC; Las Cruces, N.M.), Cameron Keys (Lehigh Valley United FC; Whitehall, Pa.), JT Marcinkowski (Mustangs FC; Alamo, Calif.), Jonathan Klinsmann (Irvine Strikers; Newport Beach, Calif.), Parker Siegfried (Newark Area SA; Granville, Ohio), Justin Vom Steeg (Santa Barbara SC; Santa Barbara ,Calif.)
DEFENDERS (9): Billy Abdallah (Cosmos Academy West; Monterey Park, Calif.), Guillermo Bermudez (Albion SC; San Diego, Calif.), Chester Castellaw (Real So Cal; Hidden Hills, Calif.), David Chavez (Juventus Forza; Redwood City, Calif.), Malcolm Jones (Cosmos Academy West; Chino Hills, Calif.), Jean Orvil Jr (West Pines United; Miramar, Fla.), Erik Pritschau (PFC; Perry, Ohio), Tommy Redding (FC America Premier; Oviedo, Fla.), Max Stiegwardt (Minnesota Thunder; Maple Grove, Minn.)
MIDFIELDERS (19): Mukwelle Akale (Minnesota Thunder; Minneapolis, Minn.), John Antunes (NY Red Bulls; Fairfield, N.J.), Coy Craft (Fusion FC; Glade Spring Va.), Daniel Crisostomo (Cosmos Academy West; Chino, Calif.), Collin Fernandez (Chicago Fire; Downer's Grove, Ill.), Jacob Hernandez (Solar; Mesquite, Texas), Cameron Lindley (Carmel United; Carmel, Ind.), Maduabuchi Obinwa (FC America SA Orlando; Windermere, Fla.), Pablo Pelaez (Albion SC; San
Diego, Calif.), Josh Perez (Chivas USA; La Habra, Calif.), Remington Pimm (IMG Academy; Tarpon Springs, Fla.), Martin Salas (FC Dallas; Dallas, Texas), Peter Schropp (Omaha FC; Omaha, Neb.), Orestis Sousonis (NY Red Bulls; Dover, N.J.), Benjamin Swanson (Columbus Crew; Grove City, Ohio), Alejandro Vergara (Cosmos Academy West; Long Beach, Calif.),
David Villegas (Elk Grove Everton; Sacramento, Calif.), Sean Wilson (PDA; Bethlehem, Pa.), Kyle Zajec (NY Red Bulls; Westport, Conn.)
FORWARDS (6): Marc Calderon (South Bay Gunners; Huntington Park, Calif.), Malcolm Dixon (NY Red Bulls; Glenridge, N.J.), Stephen Elias (NY Red Bulls; Rye, N.Y.), Andre Garcia (CV Manchester Academy; Lemon Grove, Calif.), Amirgy Pineda (Fullerton Rangers; Santa Ana, Calif.), Christian Ramirez (FC Dallas; Farmers Branch, Texas)
Read more: U.S. U14 BNT Camp hunts for goal-scoring | Club Soccer Players To Watch(TM) | College Soccer Recruiting News