Kenny Kadji is back in the game
June 23, 2011
by: Shelbi Cardwell
After coming to the IMG Academy from his home in France his sophomore year in high school, IMG Academy basketball program alum Kenny Kadji knew where he would be spending his offseason this year: on the courts of the IMG Academy basketball program.
As a high school athlete, Kadji was at the top of college recruiting lists. Being pulled from every which direction, Kadji chose to stay in Florida and sign with the Gators.
Though he started off at the University of Florida, Kadji suffered an injury which ultimately tainted his sophomore season. After transferring to Miami, Kadji sat out his first year with the Hurricanes. However, this past season was no vacation for Kenny Kadji.
"I know my ability as a player," Kadji believes. "I've been working really hard on the court and in the weight room to make sure I will be back out there this year."
And with Kadji's mindset, that doesn't seem to be an issue. While Kenny was on the bench this past season, his shift in perspective appears to be beneficial.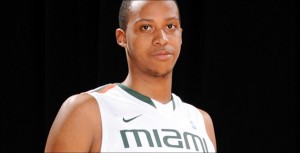 "I've been watching the game from the side lines and learning stuff you never get to see when you're playing. I think it's made me a smarter player."
Kadji's positive attitude is confirmed by Coach Dan Barto of IMG Academy basketball program.
According to Barto, "The best part of training players is when they come to you with a plan."
A plan is exactly what Kenny Kadji has. Despite the adversity of the last two season, Kadji is more than ready to tear up the court with the Hurricanes this season.
"I want to be the best player in the ACC," Kadji aspires. "I'm not really worried about being intimidated. I know if I work hard and play to my potential, it's going to pay off on the court with my team."
Because basketball has always been Kadji's top priority, he knew that he would receive the training he needed at the IMG Academy basketball program.
"I had not heard from Kenny while he was at Florida and was so excited when he came back ready to work," Barto says. "Coach VanderSluis and Loren Jackson have done a great job honing his post skills while the Performance Institute and Coach Visk have put him through the ringer."
It appears that the mixture of Kenny's mentality and IMG Academy staff have created a confident concoction. Kadji is ready to show head coach Jim Larranaga and the Hurricane nation exactly what he is made of.
"People are going to be surprised. There's a lot of stuff I can do on the court that people haven't seen yet."
Dan Barto agrees with this premonition, saying, "I think Miami Hurricane fans and NBA scouts will be lined up to see him have a great year."
After grinding incessantly to stay on top of his game, it seems like Kenny Kadji has found the spark to truly make a name for himself and the University of Miami.