IMG Academy Lacrosse program Player of the Week: July 11-15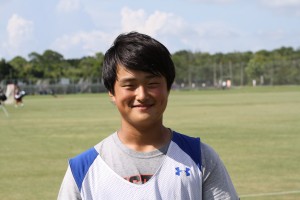 Moto Nakajima at IMG AcademyEvery week, at least one camper in every sport atIMG Academy is honored for displaying heart, hustle, and soul, while exhibiting a true desire to become THE TOTAL ATHLETE.
The IMG Academy lacrosse summer camps winner of the Gatorade "G" Standout Award/IMG TOTAL ATHLETE of the Week is…
Moto Nakajima
From: Japan
Age: 14
Moto has been trainingat IMG Academy Lacrosse program for five weeks with coaches Pat Haley and Mario Ventiquattro. Moto attended IMG to improve and prepare his skills for the high school season.He is a sophomore andplays an attackman for the Salisbury School in Connecticut. Not only does Motoenjoy playing the position behind the net but he alsolikes running up to the net and distributing the ball to his teammates. With all of Moto's hard work and effort he has put inover the summer, he hopes to start next season. From everyone at IMG Academy Lacrosse program, Good Luck to Moto and his team next year!
The following player has displayed Attitude, Concentration and Effort on a daily basis and has received recognition by our coaching staff. Our coaching staff strives daily to deliverQuality Instruction within aCompetitive Environment and provide all of our summer camp athletes with theOpportunity to fulfill their individual athletic potential.Athleticism, Strict Discipline, High Work-Rate, and a Winning Mentality are the minimum expectations we have and congratulations toMoto who has excelled.