IMG Academy baseball program students give back to the community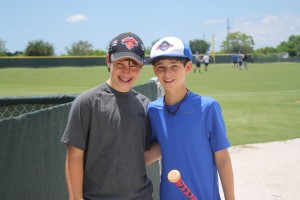 These two best friends from the Bronx were at first just looking for a Bar Mitzvah project, but ended up getting an experience of a lifetime. 13 year old IMG Academy baseball summer camp students, Teddy Herman and Stephen Brand, became affiliated with Homerun Hopefulls after having baseball coaches from the Dominican Republic and learning of the extreme poverty in this popular baseball country.
With Homerun Hopefulls, Teddy and Stephen collect gently used baseball equipment and ship them to the Dominican Republic. This year,Homerun Hopefullsshipped about 74 boxes filled with baseball gear. They collect equipment by hosting drives throughout various local schools along with some outside companies. IMG Academy baseball program participated inthis year's collection.After the baseball drives, Teddy and Stephenwere giventhe unique opportunity to travelto the Domnican Republicand distribute thebelongings to the players. They travelled throughout 15 different townsfrom the border of Haiti to the eastern coast in La Romana. This is Teddy and Stephen's first year working with the organization and it is Homerun Hopefull's ninth year of donating baseballgoods to the Dominican Republic. Currently, the organization just donates to the Dominican Republic but they are hoping to expand within the country so that education and other needs are met as well.
Teddy and Stephen are just returning from their trip with Homerun Hopefulls. Right now, they are competing in the IMG Wood Bat League for the 14 and under division. Teddy is playing for the Tarpons and Stephen for the Wahoos. This is Stephen's third time training at IMG and Teddy's first. They both attend Riverdale Country School in Bronx, NY, where they play on the baseball team. Teddy and Stephen would like to continue working with Homerun Hopefulls and hope to participate in next year's drive and trip.
Check out this video of Teddy and Stephen at a ceremony in the Dominican Republic handing out baseball equipment. Both speaking perfect Spanish!