How to turn dreams into effective goals: Part 2
By Angus Mugford, Head of Mental Conditioning, Athletic & Personal Development program
You read here about how to turn dreams into effective goals, but now we'll provide the framework for exactly how to do it.
Why?
'Why?' is really the most important question to ask of all. Without having a 'Why?' to motivate or provide you reason for action, is there really any point? This is where the dream can fuel you with desire on the tough road to success. Those mornings that you just don't want to get out of bed, or moments where you don't feel like training – this is where your 'why' serves as the inspiration that can give you the push you need. Think of these as OUTCOME goals, a gold medal, making the varsity team, hitting a body weight goal, the easier to measure and the more inspirational – the better!
What?
Now we start getting into the 'nitty-gritty' of PERFORMANCE and actually defining what it takes to perform at a given level. It's one thing to know the outcome goal that inspires you, but in many cases you don't have a lot of control over the outcome. There's a lot more about your performance that you can control and if we can improve your performance to a high enough level, a great performance will give you the result as a by-product.
Think of the aspiring tennis player who wants to get on the Varsity team, who rather than just focusing on the team, focusing on being a more consistent player, more physically and mentally tough. These are characteristics that define a good performance and if we play well, this gives you the best shot at achieving that outcome!
How?
The final, but most important level of attention here are the details. It's one thing to tell someone, 'Put the golf ball in the hole', or 'Lose weight', even 'Throw strikes', but the more relevant thing is to be able to show, explain, teach or focus on the PROCESS of how this is achieved. Break down the performance goal into smaller sections.
For example, how do I get more 'mentally tough', or how do I be 'more consistent on the tennis court'? You can get a coach to help you with this, but you may well already know your keys to success. Maybe your key to 'consistency' could be consistent preparation and routines. Perhaps it's making notes and posting them on your wall. Be practical and think about what stops you from doing things you already know how to do. For example, 'keep a towel at the back of the fence, to remind you to do your routine every point'.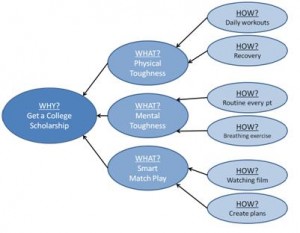 Making it work.
When people get in the competitive mindset, it's easy to focus too much on the WHY?
Picture Rafael Nadal on Center Court Wimbledon, or Tom Brady in the final 2 minutes of the Superbowl. Rather than thinking of how much is on line and their lifetime mission and their 'WHY', these athletes have incredible discipline focusing on their 'HOW's'. As you can see from the graphic to the right, the arrows of successful goals flow from the process goals (how). When a player successful executes the action, they perform at a high level. While there are no guarantees in life or sport, if we perform at a consistently high level, good things happen. In fact, we have a saying at the academy: "Winning is the by-product of excellence. Focus on the process and the results will take care of themselves!"