Saudi Arabian Little League Team trains at IMG Academy
July 28, 2011
by: largeinc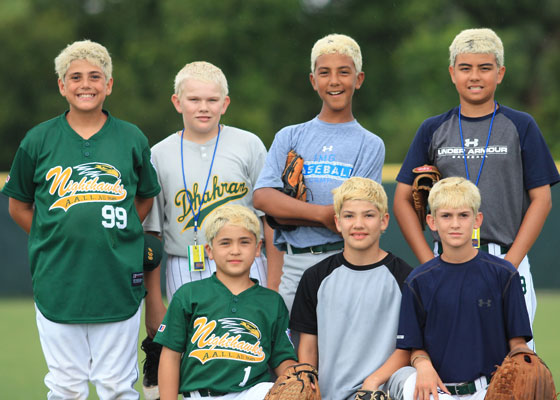 BRADENTON -- They threw, hit and ran. Just like any other baseball game.
Except this time, the Manatee West Little Leaguers were facing off against the Arabian American Little League All-Star team, based out of Dhahran, Saudi Arabia, on Friday at G.T. Bray park.
It was the second scrimmage between the two clubs, having squared off on Wednesday, only hours after the Saudi Arabian squad landed in Bradenton from Poland – site of the Middle East & Africa tournament that sends its winner to Williamsport, Pa. for the Little League World Series.
The Arabian American Little League originally were coming to Bradenton to train for 3 ½ weeks at IMG Academy in preparation for its annual summer destination up north. You see, the league has gone to Williamsport the last 11 years.
But they were upset in their region's championship game against a team from Uganda.
Nonetheless, the Saudi Arabian team – made up of players from America, Jordan, Lebanon and Venezuela – kept its commitment of coming to Bradenton.
West manager Mike Hennesey does general contract work, and said he's done a lot over at IMG.
So upon hearing about the Saudi team's schedule for training in Manatee County, Hennesey and IMG Academy baseball program advisor Kit Carlson arranged for both teams to schedule scrimmages.
"It's a great experience for our kids and they were all so, so excited to do this," Hennesey said.
The Saudi players got a treat on Thursday's off day, attending the pitcher's duel between James Shields and C.C. Sabathia at Tropicana Field as the Tampa Bay Rays defeated the New York Yankees 2-1.
"That was an amazing experience," said 12-year-old Tanner Beachy, who was on last year's Williamsport-bound club. "(Bradlee Sumner's) dad bought a box suite, and we were just up there having a blast the whole time. It was so much fun."
The Saudi players dyed their hair bleach-blonde, a traditional custom for the Arabian American Little League each year.
"We're all kind of American kids, and everybody thinks the kids come from Saudi Arabia," said assistant coach Donny Sumner, who is from Ocala. "Or Saudis or Arabs, so they wanted to show up looking like a bunch of kids from California and it's just kind of stuck with us every year."
The players' families are mainly tied to working within the oil industry, primarily with the state-owned Saudi Aramco.
"We draw from, I don't know what it is, 60 or so kids," Arabian American manager Neil Wilkey said. "But roughly, only two major north teams, so it's not a real deep pool of kids to draw from."
Wilkey said that IMG and West have been really good to them since coming to the area.
The scrimmage also provided the local players a chance to test their skill against a club that makes an annual pilgrimage to the Mecca of youth baseball -- Williamsport.
"It was huge," West assistant coach Ricky Reyes said. "They were surprised to be invited to play with them. They've been excited."
Hennesey said they plan on playing each other again on Tuesday, also a G.T. Bray .