IMG 14U WBL Player and Pitcher of the Week: John Winslow & Logan Allen
August 08, 2011
by: intern
The IMG Wood Bat League office is proud to announce that John Winslow has earned our player of the week award while Logan Allen brought in the pitcher of the week award for the second consecutive week.
John Winslow comes to IMG from Greenville, North Carolina. Winslow started off his hitting rant on Wednesday when Winslow went a 1-2, with a single and a walk. On Friday he went 2-2 with two singles, and a walk. On Sunday Winslow had a big game going 1-1 with a run scored, a single, 2 walks, and one RBI. We look to see Winslow stay hot throughout the week and help his team win a championship.
Winslow's Stats:
AVG - .800 Runs - 2 RBI - 1 SLG%- .800 OBP - .889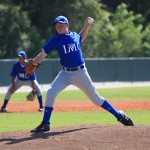 Logan AllenW - 1 E.R.A. - 1.91 IP - 7 1/3 SO - 8
Logan Allen comes to IMG Academy from Asheville, North Carolina. Allen never ceases to amaze the players and coaches winning this award for the second consecutive week. On Wednesday Allen started the game, picking up 3 strikeouts in 3 innings, but ended the game with a no decision. Allen continued his dominance on Sunday when he picked up his league leading fourth win of the summer, picking up 5 strikeouts in 4 innings and letting up no runs. We will look to see Allen continue to dominate batters, especially during this vital week of games with every team striving to win a Championship.
Logan's Stats:
W - 1 E.R.A. - 1.91 IP - 7 1/3 SO - 8
Congratulations to these two players who have excelled in competition during the IMG Wood Bat League!