IMG Academy football program director, Chris Weinke, will be paying close attention to this Panthers vs. Vikings this weekend
October 26, 2011
by: largeinc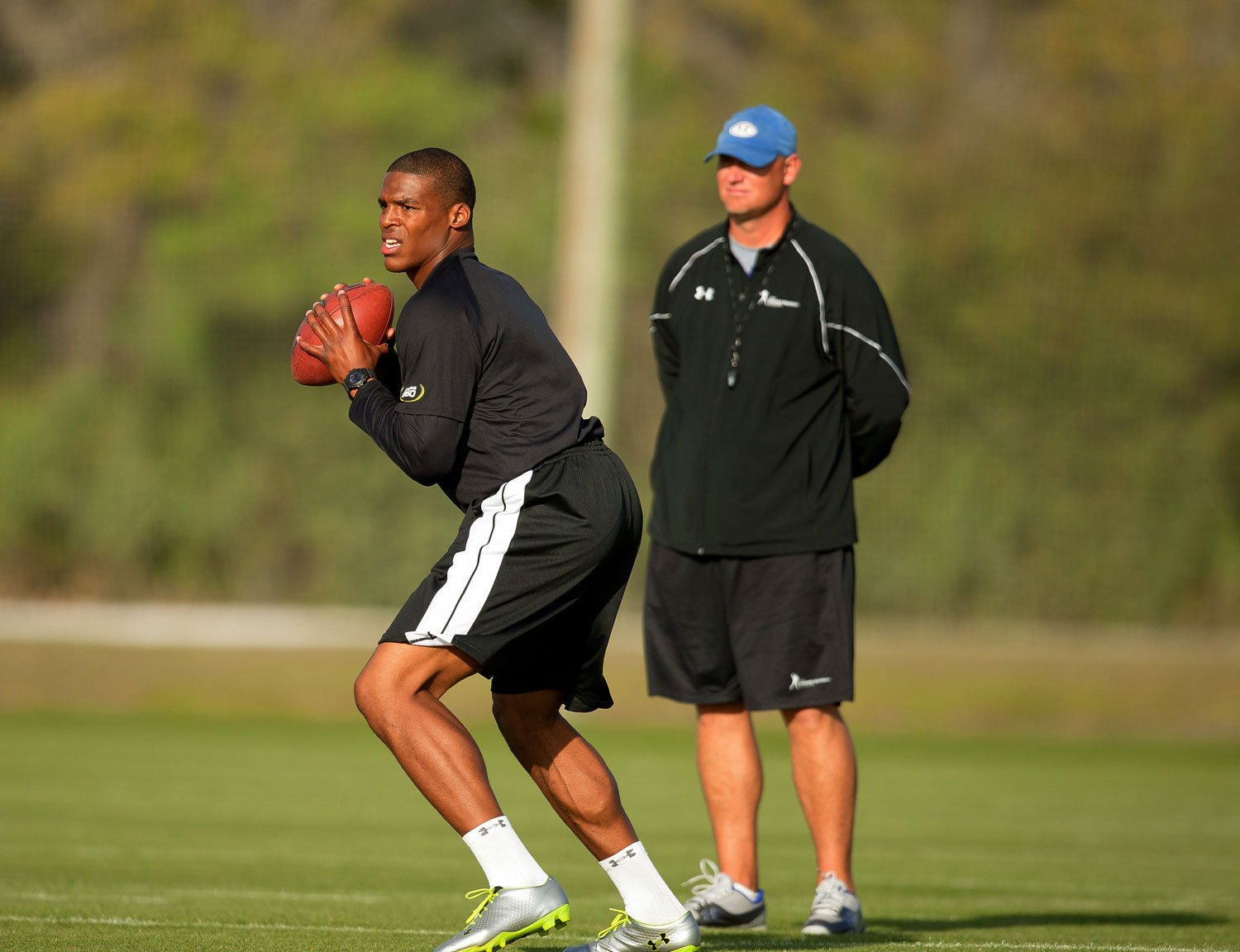 Chris Weinke has a keen interest in Sunday's Minnesota Vikings-Carolina Panthers game. That's because two of his pupils could play critical roles in the outcome.
Weinke, the former Cretin-Derham Hall three-sport star and Heisman Trophy-winning quarterback at Florida State, tutored rookie quarterbacks Christian Ponder of the Vikings and Cam Newton of the Panthers this summer.
After driving from his Bradenton, Fla., home to Jacksonville on Saturday to watch the Florida-Georgia football game, Weinke will return to see the Vikings-Panthers game.
"I will sit on my couch and watch (Ponder and Newton)," Weinke said. "This will be a game I'll be watching very closely. Hopefully, they'll both do well."
Weinke, 39, is director of the IMG Academy football program in Bradenton. He trained Ponder, the Vikings' first-round draft pick and No. 12 overall, for six weeks during the NFL lockout. Newton, the No. 1 overall pick, began training with Weinke soon after the NFL combine in February and throughout the lockout.
"Their days consisted not only of the mechanical side of the position, but about an hour to an hour and a half in the classroom every day," Weinke said from Bradenton. "I would work with those guys separately in the classroom, installing their offenses. I spent a lot of time trying to absorb their offenses so I could teach it to them."
Weinke spent seven seasons quarterbacking in the NFL with Carolina and San Francisco.
"For example, Cam would work out in the morning, then do about an hour and a half in the classroom," Weinke said, "then I'd spend about an hour to an hour and a half on the field with him every day.
"Simultaneously, Christian would work out, go through all of his strength and speed training, and after I was done with Cam, I would spend an hour to an hour and a half in the classroom with Christian and do the same thing with a workout on the field."
Weinke got access to the Vikings' and Panthers' offenses through Ponder's and Newton's playbooks.
"Fortunately, they lifted the lockout for about 36 hours, so guys drafted in the first round who went to their respective cities after they were drafted were able to get their hands on a playbook," Weinke said. "That was a huge advantage, to be able to take six or seven weeks and install their offense so they could hit the ground running when the lockout was lifted.
"That was probably the biggest thing that was most beneficial for both those guys. My whole goal was to create a structured environment that would be similar to what they would be receiving if there were no lockout."
Weinke said he isn't surprised about the early success of Newton and Ponder, the latter of whom started for the first time in Sunday's 33-27 loss to the Green Bay Packers.
"Both guys had the right mind-set," he said. "It was a joy to work with both of them - they committed themselves every day, put the time in. With Cam, he was able to absorb that offense at a very fast pace, and he's been able to do some things that not a whole lot of rookie quarterbacks have done. I've been very impressed with him.
"With Christian, I watched that game last week very closely, and I was proud of what he was able to accomplish. He's got a very bright future; he's someone that organization can lean on for a long time."
Weinke said Ponder probably was the draft's most prepared QB "to make that step from college to the NFL. He's a smart guy, he makes good decisions. I was impressed by the way he was able to make some plays on the run against the Packers. Sometimes we forget these guys are just rookies. And I was proud that he made some nice throws sitting in the pocket - and was able to make some plays out of the pocket.
"With experience, he'll continue to get better. But that's not a bad start for a young guy."
Weinke receives and evaluates each of Newton's and Ponder's game videos.
"(Newton) has amazed me at his ability to be able to stand in the pocket, because the knock on him was that he wouldn't be able to absorb the NFL offense and would just run around," he said. "But he's been able to make some unbelievable - what I call veteran - throws. At an early age, if he continues to progress, he's going to be one of the best."
Weinke was asked to pick a winner between the Vikings and Panthers.
He laughed.
"Now you're reaching," he said. "It should be a great football game. It's an advantage for Carolina being at home. It's going to be a close one, but I am a Minnesota boy, so I'm going to have to go with my Vikings."