IMG's Alison Le Vine is helping Louisville Cardinals women's soccer team
October 28, 2011
by: largeinc
Cite:
Louisville Courier-Journal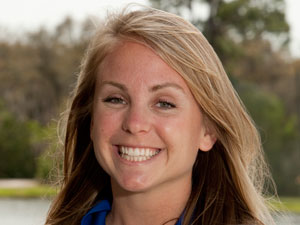 The University of Louisville women's soccer team didn't panic when it started this season 1-4-1, but you couldn't blame it for being concerned after last season's collapse.
Different year, different team. The Cardinals (10-5-3) will take on Providence (8-8-4) at home at 1 p.m. Sunday in the Big East Tournament quarterfinals, with the winner advancing to Friday's semifinals at West Virginia.
U of L rode a six-game winning streak to capture its first National Division title. It's the top seed in the National Division, with West Virginia the top seed in the American Division.
That's a stark contrast to last season, when the Cards started 7-0 but finished 10-9.
"I know this team is different than last year's team," said senior midfielder Jennifer Jones, an Assumption High graduate. "It's a different kind of make up. We definitely are stronger this year. We have a lot more players. We're a lot deeper. I never really worried."
Jones and sophomore Christine Exeter said this squad is healthier and has a deeper bench and a different attitude. U of L set a school record for conference wins by finishing the regular-season 8-1-2.
"The effort is there all the time," said Exeter, who is tied for third in the league in goals (12). "No one is taking it for granted. I think the work ethic all-around, both on and off the field, is what's making us better right now. Last year I don't think we had that much of it and the passion to win."
Coach Karen Ferguson-Dayes has been in charge of the program since 2000 and has taken it to its only NCAA Tournament appearances (2006, 2007).
When the team stumbled out of the gate this season, she remained confident because it wasn't as if the Cards were losing to bad teams. All of their losses have come against teams in the top 50 in the NCAA RPI rankings.
Ferguson-Dayes said the turning point came Sept. 16 when the Cards won 1-0 at No. 12 Notre Dame, the defending national champion.
Since then they have lost only to No. 10 Marquette.
"This is a tough group," Ferguson-Dayes said. "To go to Notre Dame and beat them there instilled a belief in our group that we can do this. We can win a regular-season Big East championship. That was exactly what we needed at the time. That catapulted us."
Ferguson-Dayes is also doing something different this season. The team talks weekly with Alison Le Vine, who describes herself as a mental conditioning provider, from the Athletic & Personal Development program. In these meetings the team talks about goals and various concerns.
Alabama football coach Nick Saban might be the most famous college coach to use IMG's mental conditioning services.
"It seemed like a different thing to pursue that could potentially give us an edge," Ferguson-Dayes said. "It's someone who is completely detached from the coaching staff, which I think is a safety net for the kids to be able to talk to her."
Jones describes the weekly meetings, which are usually over the phone, as "very beneficial."
"It's nothing I've ever experienced before," she said. "We talk about the games from the past weekend. What we did well. What we could do better. We set a goal for the week. I think it's been very helpful. It gets everyone on the same page."
U of L will need to stay focused if it wants to reach the NCAA Tournament. The Cards entered this week with an RPI of No. 44, and they will need as many victories as possible to enhance their NCAA re'sume'.
Starting with today's game.
"It's very crucial that we get a win," Jones said.