Ginger Howard wants to be in the spotlight and win
November 30, 2011
by: largeinc
Cite:
The Daytona Beach News-Journal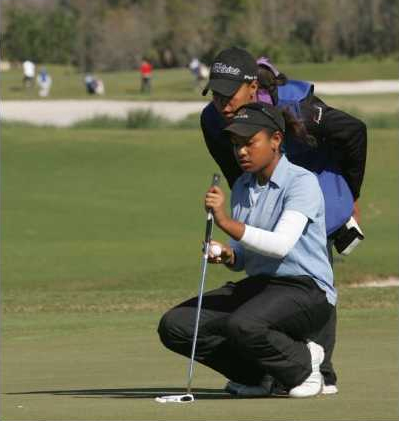 Ginger Howard has a million-dollar smile, and someday -- possibly sooner rather than later -- she may have a million-dollar golf game to go with it.
The 17-year-old out of IMG Academy golf program in Bradenton has been playing the best golf of her life after making the difficult decision to go professional in June. This week, in a field of 139 vying for 2012 LPGA Tour exemption status at LPGA International, Howard is trying to become a role model for other black female golfers.
If Howard succeeds in her quest -- and Wednesday's 2-under-par 70 on the Champions Course was more than a solid start -- she'll become just the fifth African-American to earn LPGA Tour membership.
"What would mean a lot would be for me to be the fifth African-American on the LPGA Tour and to be in contention," Howard said after her opening round. "I want to be in the spotlight and win."
As far as shouldering any added pressure by trying to be a role model, Howard appears ready to lead by example.
"It would be a privilege," she said.
Howard's parents fully appreciate what their oldest daughter is on the verge of accomplishing.
"It's wonderful that she's making history," said her mother, Gianna. "She wants to be the best regardless of her race, but it is an added bonus since she hopes to inspire others and get more African-Americans out there competing."
Howard doesn't have the resume of teenage phenom Lexi Thompson --who does? -- but read the tea leaves and you know she has tremendous potential. NCAA Division I powers Duke and Florida offered her scholarships, and her management company, IMG, has an excellent record for spotting talent.
Howard shot a 16 under par to win the Stage II LPGA Qualifying Tournament, played at Plantation Golf and Country Club in Venice, Fla., by one stroke on Sept. 30. She was tied for fifth with seven others Wednesday after the first round of the LPGA Final Qualifying Tournament, the third and final stage of qualifying.
Christine Song leads at 6-under 66.
The 5-foot-5 golfer who smashes drives 250-plus yards and has the short game to match put her decision to turn pro in the hands of LPGA officials several months ago. She applied for and received a waiver that will allow her to join the tour before she turns 18 as long as she makes it through Q-School.
"If I got a waiver, then I would turn pro," Howard said. "I just felt ready. I was confident -- didn't have any doubts."
Howard played in seven SunCoast Ladies Series tournaments and won five of them. Her play continued to get better with each phase of LPGA qualifying.
"Right now, I do feel like I'm playing my best," she said, turning to her caddie.
Which brings us to another part of the story.
Howard's younger sister, Robbi, is carrying her bag for the Q-School tourney, and that's also the plan for when Ginger makes her LPGA Tour debut. Robert Howard, the girls' father, was supposed to caddie, but hurt his knee a couple of weeks ago. Robbi, 16, a promising junior golfer and another IMG Academy Leadbetter golf program Academy protégé, jumped at the chance to caddie. (Robert stayed back in Bradenton to take care of the couple's boys -- 9-year-old R.J. and 3-year-old Giulian.)
'It's just like a practice round with her out there," Ginger said. "We're just having fun."
Robbi said she only gives advice when asked.
"I keep things to myself," Robbi said. "When she asks for something, then I'll tell her."
The sisters are obviously close, and both love the game. It's been that way from the first time they swung golf clubs.
Their father borrowed a few cut-down clubs from the pro shop at a local driving range in Woodbridge, Va., where the family was living at the time. As 7-year-old Ginger hit golf balls, it was clear she had natural talent.
The driving range pro approached Ginger's father and asked, "How long has she been playing?
"He told him, 'Oh, about 15 minutes,' "' Ginger's mom recalled.
From that day forward, golf became a central part of the Howard family's life, and, eventually, brought them to Bradenton for the IMG Academy Leadbetter golf program Academy, where Gianna works as a nurse.
Now, with four rounds left in Q-School, Ginger Howard could be just days away from being an LPGA Tour golfer.
"I'm looking forward to that," she said with that sparkling smile. "I'm looking forward to walking down the fairway on the tour."