Tulane's Pratt pulls off recruiting bonanza...with IMG Academy' Silvia Garces
December 10, 2011
by: kberard
From Tulane Athletics (SportsNOLA.com):
Garces, Opfer rank among Golfweek's Top-40 Prep Rankings; Penttila rated among Sweden's Top-10
New Orleans - Tulane first-year head women's golf coach Andrew Pratt has pulled off a recruiting coup by signing two golfers ranked among Golfweek's Junior Top-40 rankings and added a third prospect that is ranked among the top 10 players in Sweden.
Pratt's first class features the trio of Silvia Garces, Madison Opfer and Emily Penttila. Garces is rated as the 22nd ranked prep golfer according to Golfweek.com while Opfer is ranked 39th by the same publication. Penttila was the top-ranked player in Finland for girls under 21 in 2009 and is ranked No. 10 in Sweden in her age group by the Swedish Golf Federation. Only four other schools can boast two or more ranked players in the 2012 recruiting class and those include Arkansas, Georgia and Notre Dame.
"I am very excited and proud to announce my first recruiting class," Pratt said. "These three golfers will be a huge addition to our program and I expect each of them to contribute immediately. Not only are these young ladies great players, but there are great students as well and will be tremendous representatives of Tulane University. The one thing that all three of these young ladies have in common is that they all want to play golf at the next level (LPGA Tour) and that means a lot to me. I look forward to working with each of them and helping each of them reach their goals."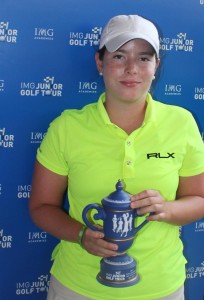 A native of Plant City, Fla., Opfer was a four-year letterwinner at the Florida Virtual School, where she led the team to state playoff appearances as a freshman and sophomore and played in the state tournament as an individual all four years. Opfer, who is right-handed, played both the top and second spots in the line-up as a freshman and assumed the No. 1position during her final three seasons.
During her high school career, she captured medalist honors twice in district play and once in regional play and finished as the runner-up twice in regional competition and one time in district action. Her best showing at the state tournament was third place as a junior. Opfer's career low round was a 67 during her sophomore year in regional action, while her lowest score for nine holes was a 33 in her final regular season match as a senior.
Outside of high school golf, she qualified for the Women's Amateur Public Links twice and also qualified for the U.S. Girls' Junior event. She has notched six victories on the Florida Junior Tour in the last four years and also won the 2011 Florida Women's Junior Girls' Championship with a 65-79. Opfer tied for 55th in the 2010 LPGA Futures Tour event.
"I chose Tulane because I wanted to be a part of a competitive golf team and I also wanted to get an education from a school I could be proud of," Opfer said. "Tulane had both of those things. I also love Tulane because of the atmosphere. It is friendly and I feel like it is somewhere I could fit in easily."
"I am extremely excited to have Madison apart of the Tulane program for the next four years. She has one of hardest work ethics I have ever seen from a junior player. She has great fundamentals and knows how to win tournaments and shoot under par. She's a student of the game and only wants to learn and get better each and every day and I love that," Pratt said.
A right-handed golfer from Gothenburg, Sweden, Penttila attended the Riksidrottsgymnasiet Klippan/Ljungbyhed school. Among her top finishes, was a first place showing at the Skandia Tour Elite in 2010 and a runner-up effort at the Finnish Championship, where she shot her best score of 5-under. Over the last two years at the European Girls Team Championship, she helped her group to a 10th place finish in 2010 and a ninth place total in 2011.
She also participated in the 2011 Girls' British Open Amateur Championship and helped Finland to a 10th place finish.
"I signed with Tulane because Andrew is a coach that invests in the future and owns an excellent network. The practice facilities are really good and the weather is just great without any snow," Penttila said. "Tulane feels like the perfect place for me to develop and to come a step closer to my dreams."
"Emily is an extremely talented golfer who is just now seeing her full potential as a player. She has always been one of the top junior Finnish players but decided to take her game to another level by enrolling in the Swedish national junior program. She is the only Finnish girl golfer that has ever been accepted into the Swedish national junior program and I believe that says a lot about her character and golfing ability. Her work ethic and knowledge of the game is tremendous and I look forward to helping Emily reach her dreams while she is here at Tulane," Pratt said.