Former MLB pitcher and World Series winner Tony Ferreira named IMG Academy baseball program's newest coach
January 17, 2012
by: Dan Tierney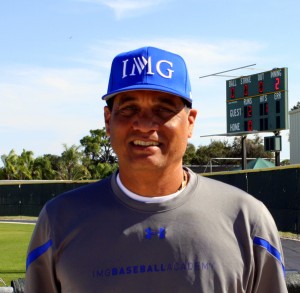 Bradenton, Fla. (January 16, 2012) - Today former MLB pitcher and World Series champion Tony Ferreira joins the IMG Academy baseball program coaching staff.
Said Ferreira of his new role, "Having an opportunity to work for such a first-class organization as the IMG Academy baseball program is like a dream come true. Joining the IMG team will allow me the unique chance to share my years of playing and coaching experiences with youth players and fellow professionals. I am looking forward to making a significant impact."
Ferreira brings to IMG an immense amount of playing and coaching experience from within the baseball industry. In 1981, as a senior pitcher out of Riverside, California, Ferreira was drafted in the second round of the amateur draft by the Kansas City Royals. Four years later, Ferreira made his major league debut during the American League West pennant race where his team went on to win the World Series. Ferreira spent the next six years playing professionally for the New York Mets, Seattle Mariners, San Francisco Giants, New York Yankees, Milwaukee Brewers and then again with the Kansas City Royals. Right before retiring in 1992, Ferreira was a member of the AAA American Association championship team, Omaha Royals.
For the last 20 years, Ferreira has had the privilege of working with players and coaches of all ages. Soon after retirement from professional play he developed his own baseball training program called Pro Kids Baseball. Through the combination of his training program and his overall teachings and guidance, numerous former students have gone on to play at both the collegiate and professional levels. Along the way, Ferreira has also provided consulting services to MLB players, including five-time World Series Champion, Cy Young Award winner and perfect game pitcher, David Cone.
Said Ken Bolek, the Director of IMG Academy baseball program, "Tony brings a unique combination of professional playing experience and amateur development expertise to the IMG Academy baseball program. He is a high-energy guy who will be a great complement to our staff and our continued efforts to provide the highest quality baseball education available."
In his new role at IMG, Ferreira will join a highly-experienced staff dedicated to developing the total baseball player on- and off-the-field.
About IMG Academy
IMG Academy, located in Bradenton, Fla., is the world's largest and most advanced multi-sport training and education complex dedicated to developing the TOTAL ATHLETE. For more than 30 years, IMG Academy has helped countless youth, adult, collegiate and professional athletes reach their full potential in sport and life, by providing expert coaching, tailored programs and world-class facilities within an energetic environment across a 400-acre campus.
The IMG Academy baseball training program is designed to help every player realize his full potential, both on and off the field. The Academy is home to players from more than 26 states and 11 foreign countries, 100% of whom attend college upon graduation or turn professional. Some notable first-round picks Director Ken Bolek and his staff have worked with include: Aaron Sele, Nomar Garciaparra, Gary Sheffield, Adam Dunn, Vernon Wells, Ben Sheets, Pat Burrell, Josh Hamilton, Mike Cuddyer, Chris Perez, Mark Teahan, and Freddy Bynum.
For more information please visit our website at www.imgacademy.com
Contact: Kim Berard, IMG Academy, kim.berard@imgworld.com, 941-752-2621