IMG Academy' Kei Nishikori rises to new heights at 2012 Australian Open
January 22, 2012
by: largeinc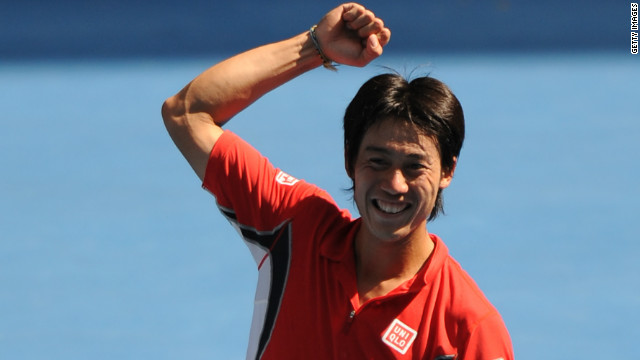 After becoming the highest-ranked Japanese player in ATP history in 2011, IMG Academy Bollettieri tennis program alum Kei Nishikori has again made history for his nation.
After a grueling five-set win over No. 6 seed Jo-Wilfried Tsonga this morning, the 22-year-old became the first Japanese man to advance to the quarterfinals of the Australian Open in 80 years, as well as the first Japanese man to reach the quarters of any Grand Slam since fellow IMG client, Shuzo Matsuoka, at Wimbledon in 1995. 
"This did not come overnight," remarked legendary tennis coach Nick Bollettieri. "It was a process that took place over seven years since Kei first came to us at the age of 14. Beyond his tennis development, Kei adjusted to cultural changes, including learning to speak English. He's a testament to how a little adversity is necessary to enable development as an athlete and a person."
In 2011, Nishikori reached his first Masters semifinal at Shanghai, by claiming his second career win over a top-10 player – none other than Jo-Wilfried Tsonga. By year's end, he had catapulted to No. 24 in the world; Matsuoka previously held the record for the highest-ranked Japanese male tennis player, reaching No. 46, in July 1992. No other Japanese male tennis player had threatened that mark until Nishikori entered the picture.
Widely recognized as one of the best-conditioned athletes on the ATP World Tour, Nishikori trains on-court with his traveling coach, Dante Bottini, who he selected among the elite coaching staff at the IMG Academy Bollettieri tennis program. He also endures grueling workouts at IMG Academy throughout the offseason to prepare for the start of the year. He credits this work as the reason he is able to endure three-and-a-half hour matches, like the one he faced on Saturday against France's Julien Benneteau.
Said Nishikori of his training habits: "IMG provides me a place where I can concentrate solely on my tennis and conditioning. I am surrounded by great coaches in an environment where I can eat, sleep and train. It's a situation many of us do not often have the opportunity to be in." 
As it relates to his history-making performances: "Hopefully I can be like Li Na for the men," the 22-year-old Nishikori said of the Chinese player who won the French Open women's title last year after reaching the Australian Open final.
Says Bollettieri in regards to what can be expected of Nishikori, "We develop more than just tennis players here [at IMG Academy]. As evidenced by Kei and his young success, we develop character, and character goes a long way. . . " 
Nishikori will play the No. 4 seed, Andy Murray, on Wednesday.