IMG Academy basketball program Alum excel in NBA
February 28, 2012
by: Jimmy Greene
With the always exciting NBA All-Star Weekend over with, the NBA has much to look forward to this coming second half of the season. Some of IMG Academy own have truly excelled thus far in this year's shortened NBA season, these TOTAL ATHLETES include:
Iman Shumpert, New York Knicks Guard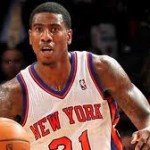 What comes to your mind when you first think of the New York Knicks: the notorious Madison Square Garden? Hall of Famer Patrick Ewing? Alan Houston's silky smooth jump shot? The deadly duo of Amar'e Stoudemire and Carmelo Anthony…or, how about the Harvard grad who goes by numerous identities including Linsanity, Linderalla, Linsational, Linspiration…or simply, Jeremy Lin.
In the past couple weeks, Lin truly has become the biggest thing since sliced bread. Yet, we all must remember that this great game of basketball is a team sport. Even if there is an I in win… and Lin. Lin has filled the long awaited role as point guard for the Knicks, yet the teams latest 7 game win streak success has been an all around team effort.
With both Anthony and Stoudemire finally returning, many bench and young players have had to step up and simulate these superstars and their over 40 points a night. One of those contributors is up and coming star Iman Shumpert. As the 17th overall pick in the 2011 NBA Draft, Shumpert has had quite the roller coaster of a ride in his rookie season with the Knicks. In the beginning of the season many were calling him the steal of the draft, turning heads with his overall athletic abilities and defensive mindset. In his first season out of Georgia Tech, Shumpert started numerous games and was impressively filling in the point guard position that injured veteran Baron Davis was planned to take over. Unfortunately, his early success did not sustain; with many saying that he was put into the mix too early in his career. We all must remember that he is a rookie, and like most rookies he is still raw. Yet, and this is a big yet, he has shown that he can truly excel in this league and compete with the best of them. Shumpert is adjusting well to his new role off the bench, averaging a solid 11 points a game for the Knicks. Recently he had a standout performance against Minnesota, dropping 20 points on 9-16 and pick pocketing the Timberwolves 4 times on the night.
With the Knicks young sensations on the rise, their superstar veterans starting to click, New York finally has all the tools again to be a top contender in the East. They are one of NBA's most talked about teams; it will be more than interesting to see how the Knicks finish out the rest of the season.
Shumpert was originally invited to the 2012 All-Star weekend to compete in the Dunk Contest, yet had to decline due to a recent knee injury. This is what we all missed:
Luol Deng, Chicago Bulls Forward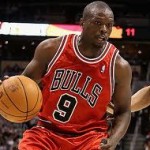 The Chicago Bulls are currently second in the East, with a 27-8 record. This impressive record has a lot to do with the 16 points, 7 boards and 3 assists a night coming fromUK native Luol Deng. Even with a wrist injury earlier this season, Deng has not been held back from being one of the top power forwards in the game today. This statement proved true with his selection to the 2012 NBA All-Star game. Deng joined his teammate Derrick Rose, as well as the Bulls head coach Tom Thibodeau at the electric All-Star weekend atmosphere in Orlando on Sunday (becoming the first pair of Bulls to make All-Star game since 1997, when Michael Jordan and Scottie Pippen were selected). With this selection, Deng has become the first ever British native to become a NBA All-Star, a selection that was long awaited and well deserved.
"It's means a lot to me that I'm here, that I was selected," Deng told HOOPSWORLD. "It just shows that people respect your game, but I told people before that if I wasn't here, I'm okay… I'm still going to play hard. I'm still going to work hard. I still want to be the best basketball player I can be."
Joakim Noah, Chicago Bulls forward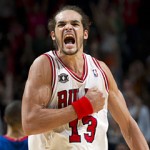 Many have mixed feelings on the University of Florida Alum, yet whether you love or hate Joakim Noah, you can't deny the numbers that he produces day in and day out. After winning two back to back championships with the Gators, he was drafted 9th overall by the Bulls and they have not looked back since. It is not a coincidence that success and Noah usually coincide. He is one of the hardest working players in the league today, and his overall aggression, passion, and dedication can attest to this. Besides his impressive average of a double-double a night this season for the 27-8 Chicago Bulls, Noah has quite the interesting story that explains why he is who he is.
Prominence, fame, reputation...all words that are familiar to the Noah family. His father, Yannick Noah, rose to international stardom in 1983 after becoming the first Frenchman to win the French Open in 37 years (two years after Joakim was born). After his stellar tennis career, Yannick became a huge success as a French pop singer. If that wasn't enough, his mother, Cecilia Rodhe, won the Miss Sweden title in 1978 before becoming an international success as a model. This explains why Noah is so comfortable in front of the spotlight; he has been around it and dealt with it his entire life. He truly is not afraid to speak his mind and show the true "Joakim" to his fans and followers.
With this deadly duo of forwards in combination with reigning MVP Derrick Rose, the Bulls are truly back on route to gain more rings for the franchises already filled fingers.
Tayshaun Prince, Detroit Pistons Forward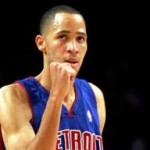 The Detroit Pistons have not had many positives to cheer about in the past couple years. Many people have wondered, what happened to the old pistons? The "Bad Boys Era" with Isaiah Thomas and Dennis Rodman? The "Grant Hill Era"? or even the 04 NBA Finals champs coached by the legendary Larry Brown. Well, with all franchises…droughts are expected.
Yet, for the first time in a while the Pistons have found a positive to truly celebrate about with the signing of former NBA champ Tayshaun Prince. This provides much to look forward to for Pistons fans. With the return of this solid veteran star in addition to the surrounding young talent, there is still much hope for the Motor City to succeed once again. The 9th year veteran out of Kentucky signed a 27 million, four-year contract for the 11-24 Pistons. With a 7-2 wingspan, Prince is deadly on the defensive end with the ability to guard and contain some of the elite players in the NBA. Along with his defensive presence he has been able to maintain his offensive identity as one of the most consistent players in the NBA today; averaging 13 points and 5 boards on the season. He is reliable and dependable day in and day out, something that the Pistons need desperately. His impact in the next four years will most certainly be nothing but a positive one.
Below is a clip of Pistons Owner/Legend Joe Dumars and Prince's fellow teammates on his return for the next four years.
As a 4-time NBA All-Defensive Second team member, Prince will without a doubt be making more big plays such as this for the Pistons.