Five-time World Series winner David Cone pays a visit to IMG Academy
March 16, 2012
by: Jimmy Greene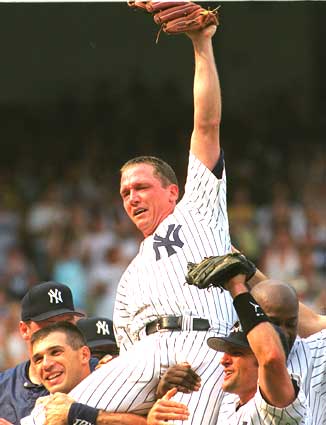 David Cone being carried off the field by his fellow Yankees after he became just the 16th pitcher ever to throw a perfect game in the MLB on July 18, 1999.
Five-time World Series winner, five-time MLB All-Star selection, Cy Young Award winner, and one of only 20 pitchers to ever throw a perfect game in MLB history; David Cone's resume truly speaks for itself. The future hall of famer has taken time out of his busy schedule to visit the world-renowned IMG Academy. The student-athletes were thrilled at his presence and openness. Cone himself was taken aback by IMG's overall impressive atmosphere and state-of-the art facilities.
"This place is an athlete's dream come true. The facilities here truly are beautiful; it's like a baseball paradise. It makes me wish I could push back time and become a 15 year old again and train here. The facilities are impressive enough, but the overall electric and positive atmosphere in combination with the elite coaching staff is what makes this place truly unique. They (IMG Academy baseball program) have provided all of their athletes with everything they need to become successful" said Cone.
The newest coaching addition to IMG Academy baseball program, Tony Ferreira was Cone's first roommate when they were drafted together by the Kansas City Royals in 1981. Since retiring Cone has been a part of the YES Network as an announcer for his former New York Yankees. Cone is currently covering the Yankees who are in the midst of spring training at Steinbrenner Stadium in Tampa, Fl. For the past couple of days, Ferreira and Cone have been reminiscing and enjoying life like nothing had changed from their days of rooming together all those years ago.
Cone arrived on IMG Academy 450-acre campus today not only for the grand tour of his former roommate/ teammate's new environment, yet more importantly do what he does best…teach, motivate and uplift all around him.