From Player to Coach: Getting to know David Whelan...
March 27, 2012
by: Robby Ficker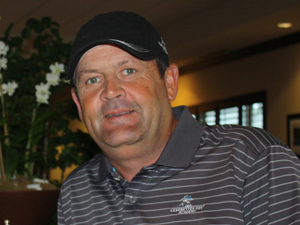 David Whelan has certainly made his mark on the game of golf as a coach. He has coached the likes of Paul Lawrie, Peter Uihlein, and Paula Creamer, along with many others. His students have won on the PGA Tour, LPGA Tour, and European Tour. They have won Junior Championships, Amateur Championships, and major titles. A solid resume for a man who never intended on being a golf coach.
The Newcastle, England native played professional golf on the European Tour for a number of years where he won the Torras Hostench Barcelona Open in 1988. Whelan also played in five Open Championships before ending his playing career in 1992. He had no idea what he was going to do next, that is until a phone conversation with his coach and mentor David Leadbetter changed everything.
Now Whelan is the Director of the IMG Academy golf program. We sat down with Whelan and learned a lot about his experiences as a coach. We'll let him tell you about those experiences himself:
What do elite players have that good players don't?
I struggled with golf for the first 5 or 6 years being a pro, up until I was 23.I was brought up on a coal mine in town in the Northeast of England and didn't really envision that anyone that came from there could be a professional golfer, so I was always playing with a lack of self-belief. It wasn't until I started to do well, started mixing and playing with better players, that I actually began to believe. And then when I won I believed that I could do it all the time.
I think that's certainly what I have seen in the kids that come through here. They have a tremendous amount of self-belief and confidence in their own ability. We have had some unbelievably talented athletes that really never have that self-belief and never really go on to reach their potential because of that. The kids here are in an atmosphere that gives them an inner self-confidence and belief to go out and do better than they feel they should be able to do.
Describe how the IMG Academy golf program fosters a student's drive to improve their game?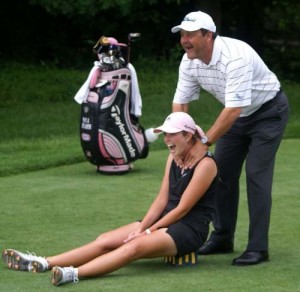 I think we have the unique ability here to have the better players bring along the younger, less developed players.When Paula [Creamer> came here her whole goal was to beat Aree and Naree Song. At 13 years old they were leading major championships. It was interesting to see how they would try to out-practice each other. Who would be the last one off the range? She [Creamer> was determined that she was going to outwork these two girls and get to where they were. In the last few years she's not only out-worked them, she's surpassed them in achievement for sure.
I'vebeen working for IMG [Leadbetter Golf Academy> for 20 years now. My first 10 were in Europe. I had a lot of success with pros in Europe but they were always good players before I taught them. In Paula's case, when I sat with her when she was 15 or 16 and she said, "I want to be the best player in the world." I'm watching her hit golf balls and I'm going, "Yeah well so do I." The two didn't seem to meet. But then the results did. She was very determined, very hard-working, and never really wavered from that path. From my standpoint, all I had to help her do was give her the technical tools. Paula has been great with the attitude "If this is what you say I need to do, this is what I am going to do."
What factors separate IMG Academy from other similar sport training academies?
The greatest thing about the kids here is the successful ones have bought into the program. Bar-none. They worked in the IPI, they worked with mental conditioning, they followed the structure of the day, and they did it without question.
We try to create the right habits very early in their life. They realize they need to dedicate their whole being to it. Not just playing golf on the weekend like I did when I was a kid. If you look at them now they act very professional. At 13-14 and up their time management is so much better than the kids I see that are not involved in this place. They realize they have their three hours of golf, their school, and the day is all structured for them. Then they workout, and they manage their time very well. That certainly benefits them when they move on to college, as they already have experience in that kind of setting.
You played on the European Tour. What do you think of Peter Uihlein's decision to start his career and develop his game there?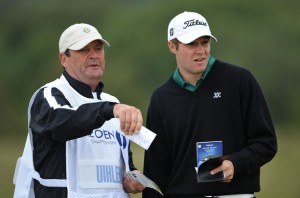 I really believe that should be the way most kids try to do it. You need resources to be able to do that, because the European Tour from an expenses standpoint is basically a world tour. But you play in so many different conditions: weather, grass types, etc. To go from South Africa to Australia to Dubai to Qatar to Abu Dhabi to India is a real challenge. I think down the road for Peter it will be a huge benefit because he'll be more experienced, better able to cope with weather conditions, and other changes. Don't get me wrong, the PGA Tour is the pinnacle of the game but they play in very similar conditions most of the year.
What was your most memorable moment as an instructor?
You go through different stages, obviously. Paul Lawrie was the first pro I taught that won a tournament. Per Ulrik Johansson was the first pro I taught that went to the Ryder Cup. Catriona Matthew was the first pro I taught to win a major. 2010 was an incredible year for me - to have the U.S. Junior Girls Champion, U.S. Women's Open Champion, U.S. Amateur Champion, and Jacquelyn Sweeny was the medalist in the U.S. Women's Amateur. I mean if you get those four wins in your career you're doing pretty well. For me, every one of those kids was a product of IMG Academy though, not just me. I'm part of the process.
What was the transition like from playing to coaching?
I never thought that when I was playing I would ever be able to teach golf. We have that saying: "Those who can't play, teach."
I started to work with David Leadbetter in the early 80's. I played a lot in South Africa and I was good friends with Nick Price and David Frost. They kind of let me know that I wasn't getting anywhere, and they steered me in the direction of David. So I went to Greenleaf, Florida and started to work with David and I loved it. I became more successful as a player working with David. However, I got to a point in my career where I was still playing but I wasn't really enjoying the lifestyle. It was 40 weeks a year on the road.
I was sitting in the Newcastle Airport going to play in the Volvo Masters in 1991. I was 30 years old and I'm saying, "Do I really want to be sitting here at 6 o'clock in the morning?' I finally decided that I didn't. I went to the airport desk and I said to the guy, "Get them bags back. I'm not going". With that, I went home.
I called David up a couple of days later and told him what I was feeling; that I was worn out with it all. He goes, 'Well what are you going to do?" I had absolutely no idea. He said, "Why don't you come work for me?" Seven days later I got on a plane and I flew to Florida - to Lake Nona it was at the time.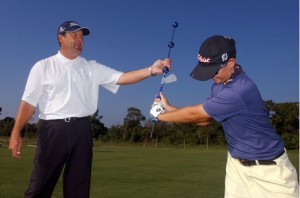 How would you describe yourself as a teacher?
I don't say a lot. I'm not shouting at the students every two or three minutes. I like to be able to explain to students that I am very scoring oriented, from a golf standpoint, in that I prefer to have them work on the scoring shots rather than the 350 yard drives. I don't subscribe to the idea that the quantity of golf balls you hit will be the determinant of whether you become good or not. I think the student should buy into the whole approach, as far as physical and mental.
What's the best piece of advice you have used as a coach?
"Never give up." Jack Nicklaus wrote a book called My Story and it's a daily account of him winning his 18 major championships. If you read what's going through his mind, how badly he was playing at many points during those tournaments, and how he hung in there, you realize that anything can turn on the bounce of a ball.
I always remember, I played in a Regional British Open Qualifier in 1985 and I was doing crap. I was 3-over after 14 holes. I hit my second shot on the par-5 14th and it's going out-of-bounds. It hits a wall, bounces 50 yards in the other direction, onto the green, and I holed the putt for an eagle. It was just a rinky-dink shot. I managed to birdie the next hole and get into the sectionals through a playoff. I won the sectionals and was leading nine holes into the third round of the British Open. Now if that ball misses that wall down the 14th hole, I'm done. I make sure the kids know that you're never really as far away as you think you are.