IMG Academy-trained athletes selected in top-ten of 2012 NFL Draft
April 26, 2012
by: largeinc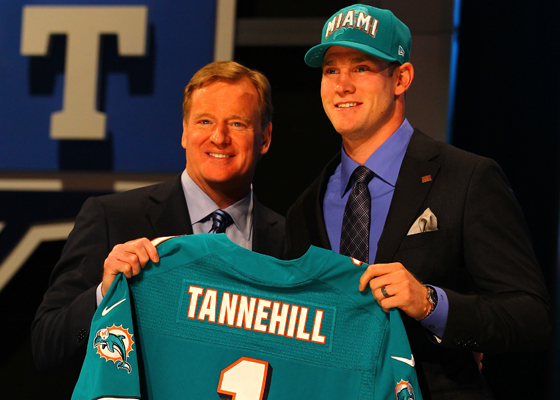 Following the conclusion of the NCAA football regular season, thirty athletes arrived at IMG Academy to participate in the 2012 NFL Combine/Pre-Draft Training Program. They endured seven weeks of the world's most advanced and comprehensive training program for today's pro player. Seven members of this year's training program saw their hard work pay off when they were selected in the first two rounds of the 2012 NFL Draft, with an additional thirteen athletes drafted in later rounds. The first and second-round selections included: 
Texas A&M QB Ryan Tannehill (8th overall, Miami Dolphins)
Boston College LB Luke Kuechly (9th overall, Carolina Panthers)
University of Georgia OG Cordy Glenn (41st  overall, Buffalo Bills)
Georgia Tech WR Stephen Hill (43rd overall, New York Jets)
University of Illinois OT Jeff Allen (44th overall, Kansas City Chiefs)
University of Connecticut DT Kendall Reyes (49th overall, San Diego Chargers)
University of Wisconsin C Peter Konz (55th overall, Atlanta Falcons)
"Our philosophy is not to try and totally overhaul any athlete. We focus on the little details and make minor adjustments to maximize their abilities," said Chris Weinke, IMG's football director and former NFL quarterback. "From a fundamental standpoint, each athlete who trained with us made significant progress. Our structured program provided the athletes with a better understanding of the speed of the NFL game, more knowledge of the game, and how high the expectations are at the NFL level. We are proud to see their commitment and hard work pay off, and wish them the best in this next step of their careers."
In the end, a record twenty IMG Academy-trained athletes were drafted, with an additional eight earning priority rookie free agent contracts in the hours shortly after the conclusion of the Draft. 
IMG Academy' seven-week NFL Combine/Pre-Draft Training Program presented athletes with education and training in position-specific skills, sports nutrition and hydration, physical conditioning, speed and movement, vision training, mental conditioning and communication. Former IMG NFL Combine/Pre-Draft Training Program participants include 2011 draftees Cam Newton (1st overall pick, Carolina Panthers) and Anthony Castonzo (22nd overall pick, Indianapolis Colts); 2003 undrafted free agent Tony Romo (Dallas Cowboys); and 2001 32nd overall pick Drew Brees. 
A complete list of IMG Academy-trained athletes selected in the 2012 NFL Draft:
Texas A&M QB Ryan Tannehill (8th overall, Miami Dolphins)
Boston College LB Luke Kuechly (9th overall, Carolina Panthers)
University of Georgia OG Cordy Glenn (41st overall, Buffalo Bills)
Georgia Tech WR Stephen Hill (43rd overall, New York Jets)
University of Illinois OT Jeff Allen (44th overall, Kansas City Chiefs)
University of Connecticut DT Kendall Reyes (49th overall, San Diego Chargers)
University of Wisconsin C Peter Konz (55th overall, Atlanta Falcons)
University of Wisconsin QB Russell Wilson (75th overall, Seattle Seahawks)
Rutgers WR Mohamed Sanu (83rd overall, Cincinnati Bengals)
Michigan State QB Kirk Cousins (102nd overall, Washington Redskins)
Louisiana State University CB Ron Brooks (124th overall, Buffalo Bills)
University of Oregon LB Josh Kaddu (155th overall, Miami Dolphins)
Samford University S Corey White (162nd overall, New Orleans Saints)
Missouri Western K Greg Zuerlein (171st overall, St. Louis Rams)
Florida Atlantic RB Alfred Morris (173rd overall, Washington Redskins)
Presbyterian College CB Justin Bethel (177th overall, Arizona Cardinals)
University of Oregon OL Mark Asper (178th overall, Buffalo Bills)
University of Alabama - Birmingham OT Matt McCants (201st overall, New York Giants)
Kansas State RB Bryce Brown (229th overall, Philadelphia Eagles)
North Carolina State DT Markus Kuhn (239th overall, New York Giants)