Meet the newest IMG Academy athletic trainer: Claire Graves
June 22, 2012
by: Caroline Early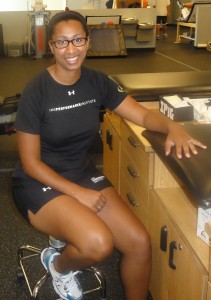 Along with the satisfaction, fun and camaraderie, athletes will occasionally suffer from injury. Most injuries occur unexpectedly, and often at tough spots in one's season. Regardless of the circumstance, there are qualified professionals who are trained to help athletes get back into the game. At IMG Academy, this is Claire Graves, the most recent addition to the athletic training team.Claire is a Licensed (LAT) and Board Certified (ATC) athletic trainer as well as a strength and conditioning specialist who hails from Grosse Pointe, MI, a suburb just north of Detroit.Graves was an active athlete herself, participating on the track, soccer, and competitive cheerleading teams in high school. She attended the University of Michigan in Ann Arbor and earned a Bachelor's of Science degree in kinesiology in 2009. Her first clinical assignment as an athletic training student was with the Michigan Wolverines football team during her sophomore year. After spending two weeks in California working at the 2007 Rose Bowl, she fell in love with athletic training and pursued it with high energy and focus.
Graves followed her passion to graduate school at the University of Florida where she earned a Master's of Science in applied physiology and kinesiology in 2011. Her time as a Gator was spent heavily involved with athletes both at the university and in the community. Graves held several internship positions as an athletic trainer for the men and women's swimming and diving teams with the University of Florida Athletic Association. She also obtained a graduate assistantship as the head athletic trainer of Eastside High School in Gainesville, FL. While at Eastside, she developed a better understanding of teenage athletes as well as her professional growth, for she alone was responsible for the health and safety of over five hundred players. At the end of her time with the Gators and Eastside, Graves wished to continue her career in an environment where she could interact with both youth and elite athletes. IMG Academy proved the perfect fit.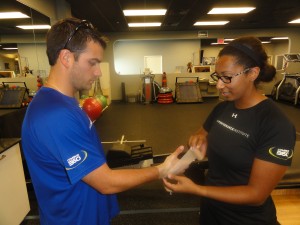 "One Way to Obtain Driving Permit Hours": While Graves' interest in athletic training became concrete during her time at the University of Michigan, her personal interest in health, safety, medicine, and the human body was sparked when she was in elementary school. Once on a Thanksgiving family trip from Michigan to Virginia, her Father tripped and fell onto his right knee, shattering his kneecap into fifteen pieces and rupturing his ACL. Graves and her younger brother returned to Michigan following the break, but her father was not able to come home until after New Year's Day.His return home came with several months of physical therapy in which Graves spent observing and helping her father recover. While Graves jokes that her father's recovery provided her the opportunity to practice driving, the memory of "his return to play" stayed with her, shaping her interest in an athletic training career path.
"Live Every Day to the Fullest": When discussing her personal goals, she stresses living every day to the fullest. For her this means "making somebody else smile" along with "making someone else's day better by creating a healing environment where results are recognized." This mentality derives from a tragic incident she faced when working at Eastside High School highlighting that not every story is going to be a story of success. During her time there, one of the athletes collapsed during a track workout off campus. The athlete was cleared to play, however, twelve days later she collapsed again, less than 50 yards away from Graves' office door. After fighting for her life for two days in the ICU, the athlete did not survive and passed away with what was diagnosed one year later as hypertrophic cardio myopathy. This tragedy had a strong impact on Graves, causing her to re-evaluate how she handles grief and how she interacts with athletes. Most importantly, it added value and insight to how she can help other athletes return to their sports after injury, the importance of effective communication, and how to prevent incidents like this from occurring again.
Claire's Athletic Training Tips:
Nutrition is a huge component of a healthy athlete. Nutrition is not only the food you are consuming and the nutrients you are taking in, but also your hydration status. It plays a major role in an athlete's recovery. The staff at IMG does an awesome job of making sure that Gatorade and other products are readily available to athletes. They strive to help athletes become aware of their eating habit through examples such as how eating a McDonald's hamburger as a pre-practice snack is poor choice because it is so high in sodium that it will be difficult to recover and rehydrate before your next practice.
Hydration: Finisha gallon of water before practice (that doesn't mean chugging an hour beforehand).
DO NOT play through pain- It's important for athletes, especially those who participate in team sports, to understand that the team does not rest on your shoulders alone. You have to contribute in your own way, but you cannot be the best without performing at your best. Playing through pain will only decrease your performance. Often times taking care of yourself requires seeking assistance from a medical professional. This goes hand in hand with understanding the difference between general exercise soreness and the onset of an injury.
Reporting Concussions: A concussion occurs when your brain shakes inside of your skull and causes neurological impairment. They do not always occur with a direct hit to the head. With these injuries, athletes are never capable of diagnosing themselves. It is up to a trained medical professional to look from the outside in to give an accurate evaluation. Concussions must be reported every time, regardless of the severity. Concussion education is equally important so that athletes can understand the variety of associated symptoms as well as prevent second impact syndrome.