IMG Academy tennis students and alum continue dominance into the summer
June 26, 2012
by: Kristin Oliver
IMG Academy tennis students and alumni continue to dominate competition across the globe.
Some of the most recent results include:
Michael Mmoh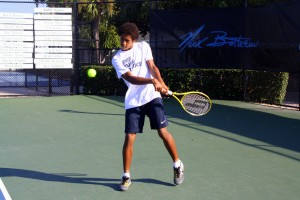 Quarterfinals singles appearance at the Tunisia Junior ITF Grade 3 held June 20-24
Mmoh has accepted an invitation from the USTA to represent the United States in the 14 and under World Championships, in Prostejov, Czech Republic, August 13-18.
Naomi Totka
Doubles finalist at the women's $10,000 New Delhi ITF Pro Circuit tournament held June 18-24
Christian Harrison
Semifinals appearance at the $10,000 Indian Harbour Beach men's Futures tournament held June 15-24 (fell 6-7(4), 4-6 to eventual champion, Chase Buchanan)
Congratulations on your excellent performance!