Getting to know IMG Academy tennis camper Theodoric Tran
July 06, 2012
by: Kristin Oliver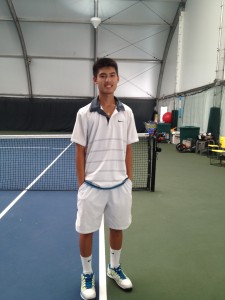 For three weeks this summer, 14-year-old Theodoric Tran of Sugar Land, Texas, is training at IMG Academy to improve his tennis game. During his time at IMG Academy's world-class campus, Tran has participated in drills, strategy sessions, vision training, mental conditioning and video analysis.
Tran, who began playing competitive tennis a few years ago, was immediately drawn to the sport because of "the feeling when you're on court, the excitement, the feeling of winning, the accomplishment and being proud of yourself."
Looking to take his game to the next level, Tran came to IMG Academy to train with the best coaches and practice with elite competitors.
"I have enjoyed the match play," Tran said. "I feel like it's improved my game a ton by training here."
Tran hopes to continue training at IMG Academy so that he can follow in his the footsteps of his favorite player, Roger Federer, by competing at the highest competitive level.