Lauren Kierman, IMG Academy Tennis Athlete of the Week: July 9 - 13
July 13, 2012
by: Kristin Oliver
Every week at least one athlete from each sport will earn the Gatorade "G Standout Award"/IMG Academy Athlete of the Week for displaying Heart, Hustle and Soul, and exhibiting a true desire to become THE TOTAL ATHLETE.
The tennis winner of the Gatorade "G" Standout Award/IMG Academy Athlete of the Week Award is…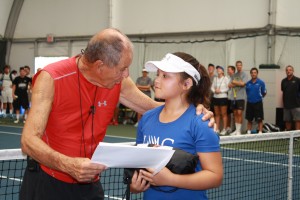 Lauren Kierman
Age: 10
Hometown: Pembroke, Bermuda
Best advice received: "Be ready and hit hard."
Favorite part of IMG Academy: "Working out and playing tennis"
Best athletic accomplishment:"Getting better at tennis"
Favorite subject in school: Gym
Favorite music: all types
Biggest superstition/habit before competition: "I don't have any."
This player has displayed Attitude, Concentration and Effort on a daily basis and has received recognition by our coaching staff. Our coaching staff strives daily to deliver Quality Instruction within a Competitive Environment and provide all of our summer camp athletes with the Opportunity to fulfill their individual athletic potential. Athleticism, Strict Discipline, High Work-Rate, and a Winning Mentality are the minimum expectations. Congratulations to Lauren who has excelled!