Bollettieri Tennis
Lisicki, Stepanek advance in Memphis
February 20, 2009
by: Nick's Picks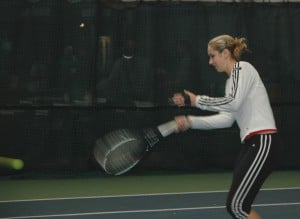 Ingredients for success and how to help a child
February 07, 2009
by: largeinc
The Bradenton Herald
In only its second year, the Leadership Prayer Breakfast to benefit Take Stock in Children of Manatee County attracted a crowd of more than 350 to Renaissance on 9th.
River Club resident Diana Dill, program director for Take Stock, beamed Thursday as the crowd — more than twice as large as the first year's — took every available seat, and overflow parking was diverted to a field across the street from Renaissance.
Tennis legend praises mentoring program
February 05, 2009
by: largeinc
BRADENTON — As usual, Nick Bollettieri was in top form.
The 77-year-old bounded on stage to address 360 people at the Take Stock in Children Leadership Prayer Breakfast at the Renaissance on 9th on Thursday and regaled them with anecdotes.
"Now, my biography of my life, the unedited biography, is coming out," he said. "They interviewed several of my wives, that should be interesting."
The audience roared.
No. 1 recruit stars earlier than expected
February 03, 2009
by: largeinc
DukeChronicle.com
One by one, the Blue Devils complete their stretches at the net and walk out of Sheffield Indoor Tennis Center. Last to leave is 5-foot-5 Mallory Cecil, whose infectious smile is unmistakable even as she slowly ambles off the court.
For this first-semester freshman already playing first singles, however, the beginning of this year has been anything but slow. Cecil only graduated from high school in December, and up until four weeks ago, she was a hot commodity among schools hoping to land her in their lineups.
Delhi boy hits Aussie winner - Nick Bollettieri Tennis Academy student, Yuki Bhambri, aces junior singles
January 30, 2009
by: largeinc
The India Telegraph
New Delhi, Jan. 31: Yuki Bhambri wanted a Grand Slam trophy in his drawing room but had prepared himself for a long wait.
The 16-year-old proved himself wrong. In fact, he didn't even have to wait an hour.
The Delhi boy took just 57 minutes to wrap up the match and become the first Indian to clinch the Australian Open junior singles title.
The easy 6-3, 6-1 win over German Alexandros-Ferdinandos Georgoudas lit up India's day before Mahesh Bhupathi flattered to deceive in the men's doubles final.
NBTA student, Yuki Bhambri, is hailed as future of Indian tennis
January 30, 2009
by: largeinc
Thaindian News
New Delhi, Jan 31 (IANS) There was never a doubt about his talent. It was just a matter of when it translates into results. And Yuki Bhambri did just that at the Australian Open by becoming the first Indian to win the junior title Saturday. The 16-year-old Delhi boy is hailed by the country's tennis greats as the most exciting prospect. Yuki, who after Ramanathan Krishan, Ramesh Krishnan and Leander Paes has become the fourth Indian to win a junior Grand Slam, is seen as the future of Indian tennis along with American Collegiate champion Somdev Devvarman.
HEROIC WATSON IS TOO HOT TO HANDLE
January 28, 2009
by: largeinc
UNDER the merciless sun which made her dizzy, with feet aching from the heat of the ground and not a charitable shadow on court, Britain's Heather Watson, just 16, delivered a heroic performance at the Australian Open as a ludicrous rule left her out in temperatures of 42C (110F).
That is hot enough to trigger the 'run for cover' extreme heat rule which quickly halted most matches on outside courts and allowed the Rod Laver Arena roof to be closed and the air-con deployed for Serena Williams and Svetlana Kuznetsova.
Champion Of Capitulation
January 27, 2009
by: largeinc
llness and fatigue collided in the Australian Open quarterfinals: a resolute Andy Roddick was sick and tired of seeing his major aspirations stall before the semifinal stage; defending champ Novak Djokovic was just plain sick and tired.
In the end, Roddick's relentless firepower and superior strength combined with searing heat and lingering fatigue from playing a day match after completing his fourth-round win over Marcos Baghdatis near 2:25 a.m. on Monday morning were too much for a drained Djokovic to overcome.
30 Years of Nick: How Bollettieri Changed the Game
January 24, 2009
by: largeinc
30 Years of Nick: How Bollettieri Changed the Game
Nick Bollettieri Tennis Academy student, Yuki Bhambri, top seed in juniors at the Australian Open
January 23, 2009
by: largeinc
Melbourne, Jan 24 (IANS) India's Yuki Bhambri has been top seeded in the juniors singles at the Australian Open, clearly marking him down as a player to watch out. Yuki has made waves on the circuit after his semi-final appearance in the previous edition at Melbourne Park and he is a player on the upward curve, rising to become the World No. 2.
He certainly does not lack the self-motivation and determination to do well when he opens against German Sanchez Delfin of Mexico as the juniors events get underway Sunday.
Pages