The Comeback: Johnny DuRocher's incredible story
May 04, 2009
by: Dan Tierney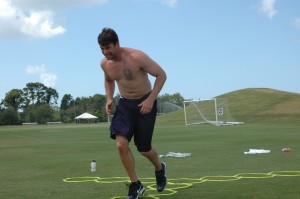 It wasn't supposed to be this difficult for Johnny DuRocher.
The state Player of the Year as a high school senior in Washington should be throwing passes in the NFL right now, not showing off a four-inch scar on the back of his head where a tumor was removed, thus ending his college career before it really started.
Now, DuRocher wants to be the next feature of a tale based on strength, fortitude and unexpected circumstances that everyone talks about.
"Someone's got to do it," he said. "Someone's got to make the story. Before Kurt Warner, everyone said nobody can go from the Arena League to the Super Bowl. Before Tom Brady, everyone said nobody can go from getting beat out in college to winning three Super Bowls. Just give me a shot. I think I'm pretty damn good, and I want everyone else to know it."
Don't take it as arrogance. DuRocher has to believe in himself. He knows he has a mountain to climb, but he's already scaled the figurative Everest. Now training at the Athletic & Personal Development program at IMG Academy, DuRocher hopes to get a chance at the NFL.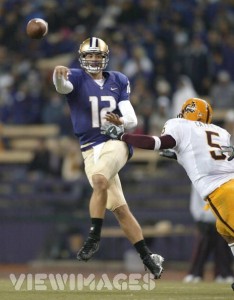 At a prototypical 6-foot-4 and 215 pounds, DuRocher was a blue-chip prospect out of Bethel High and committed to Oregon. He soon transferred to the University of Washington and played in five games as a sophomore. In his junior season in 2006, he suffered a concussion against Stanford. A CT scan then found a benign tumor on his brain.
He had three options - surgical removal, radiation or continued monitoring of it. It was never much of a decision for DuRocher.
"I want it out," he told the doctor. "Just cut it out now."
After a few days, DuRocher was walking around hospital halls with the help of nurses. Soon, he was walking around his family's property. Within a month, he was working out again.
Without medical clearance, though, what next? Some friends suggested baseball. DuRocher was a solid player at a young age, but gave it up after his freshman year, when he played catcher, to concentrate on football.
Still, he convinced the UW baseball coach to give him a shot at pitching. After a couple of random innings, he earned a mid-week start, and Major League scouts filled the stands.
"It was like 45-minute first inning," he said. "I could not throw a strike. The pitching coach comes out and goes, 'Hey, what's going on?' I'm like, 'I don't know, but there are a lot of guys with notebooks, and I'm just trying to throw hard.'"
After just six college innings pitched, the Seattle Mariners drafted him in the 34th round. He rose to single-A ball, but gave it up when a doctor recommended Tommy John surgery to continue his career.
And just as with the tumor, he didn't think much about the decision. He nixed the surgery and decided to pursue a career in coaching football.
"I never loved baseball," he said. "Football's always been my sport."
DuRocher in the fall of 2008 returned to UW, where he dissected football game films as an intern. When a few UW football players asked him to throw some passes for a workout, DuRocher threw the ball as well as ever. He took it as inspiration to give football another try, received clearance from a neurologist and started training to get back into football shape.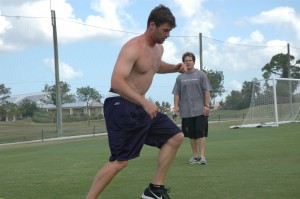 Then, while doing a resistance workout in December, DuRocher tore his Achilles.
Now, post-surgery and near full recovery, the comeback has begun for DeRocher. He endures the full IMG Academy Athletic & Personal Development programsprogram that includes not only physical conditioning, but mental conditioning and nutritional training. He's thrown passes to NFL wide receiver Matt Jones, who is also training at IPI.
"I ask him everything," DuRocher said. "What's training camp like? How good are the quarterbacks? How far do you think I am away? I want to know everything."
DuRocher hears the doubters and skeptics, but he finds energy in the negativity.
"I'm good, and I'm going to show you I'm good," he said. "I don't know when. It might be this year or five years or 10 years, but I'll show you. I've just got to be extremely resilient, because nobody's going to do this for me.
"I know if I just keep grinding away and keep hitting that stone, it will break."