Big Sunday for Performance Institute's NFL alumni
October 12, 2009
by: Dan Tierney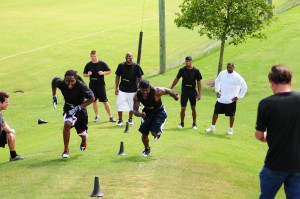 They endured day after day in the lung-crushing Florida humidity.
For several NFL players, though, the grueling days spent this summer with Athletic & Personal Development program specialists are paying dividends now.
Dominique Rodgers-Cromartie of the Arizona Cardinals stepped in front of a Matt Schaub pass with a little more than 2 minutes remaining and returned the interception 49 yards for the winning score in Arizona's 28-21 victory.
Other notable alum happenings from this weekend:
* Tim Jennings (Indianapolis Colts): 5 tackles and 1 interception
*Cliff Avril (Detroit Lions): 5 tackles and .5 sack
*Johnathan Joseph (Cincinnati Bengals): 3 tackles and 1 interception (3rd interception in three weeks)
*Fabian Washington (Baltimore Ravens): 5 tackles and 1 pass defensed
* Dunta Robinson (Houston Texans): 4 tackles and 1 pass defensed