Alabama takes home BCS National Championship title; IMG's Moawad shares in victory
January 10, 2012
by: kberard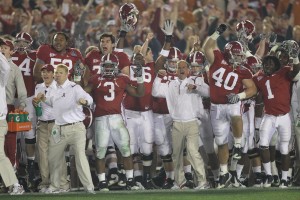 Last night Alabama steamrolled LSU 21-0 to take home the BCS National Championship title. Coach Nick Saban later told the media that the goal he gave his team was to "control your own destiny."
It's with the help of mental conditioning expert Trevor Moawad, who is also Director of the Performance Camps at the Bradenton, Fla.-based IMG Academy, that Saban's team has been able to do this. Moawad has worked with the squad for the last few seasons, helping them sharpen their mental acuity and approach to the game on-and off-the-field.
From a November Sports Illustrated story:
Moawad doesn't work only for Alabama. He has a full-time job as the director of the Athletic & Personal Development program in Bradenton, Fla., and he also consults with Florida State's football team (coached by Saban acolyte Jimbo Fisher) and with several branches of the U.S. military. Moawad and his staffers check in often in Tuscaloosa to ensure Alabama players are as fit mentally as they are physically. They teach players how to communicate better with their coaches and teammates, how to block out distractions, how to adopt the correct attitude and how to know when to lead and when to follow. When Alabama faces LSU on Saturday at Bryant-Denny Stadium, Moawad will be on the sideline in case anyone needs a brief refresher. After the past 11 months, he isn't worried about the leadership void that plagued the talented 2010 team.
Throughout the year, Saban will bring in Moawad — whom he met while coaching the Miami Dolphins — to run players through drills that reinforce specific mental traits. The exercise that helped Hightower understand why he needed to speak up during the Auburn game involves a group of players who are tasked with planning a barbecue. Each player wears a number on his head. He can't see the number, but his teammates can. A one is the low man on the totem pole. A nine is an alpha dog. Moawad instructs the players to treat one another in accordance to the number on each person's head. When the nine speaks, everyone listens and reacts. When the twos and threes speak, they are ignored. "You start to learn status," Moawad said. "The overall goal is learning where you fit in. At different times, you need to play different roles." Said left tackle Barrett Jones: "By the end, everyone clearly knew what number they were." Hightower hadn't realized during the Auburn game that he was already a nine.
Moawad is quick to say he isn't a sports psychologist. He prefers to be known as a coach. After a brief career in pro soccer, Moawad worked as a high school teacher and coach in south Florida. Then he attended a mental conditioning workshop at IMG Academy. Shortly after, he took an internship there and never left. Moawad gets his penchant for motivation honestly. His late father, Bob, was a nationally renowned motivational speaker who focused on self esteem. The elder Moawad even contributed one of the stories to the original version ofChicken Soup for the Soul.
In 2001, Moawad was working with stars such as Serena Williams when he and his then-partner, Chad Bohling, got a call from the Jacksonville Jaguars. Coach Tom Coughlin wanted to know if the mental coaches could find a way to help tailback Fred Taylor — known at the time as "Fragile Fred" because he was so injury-prone — play a full season. Moawad remembers the first meeting with Coughlin, who was skeptical of the entire idea of mental conditioning. "You've got three minutes," Moawad remembered Coughlin saying.
Moawad also tries to help teammates communicate better with one another. Back when Jones played guard, he sat back-to-back with center William Vlachos. Vlachos had to describe a series of complex shapes on a card in his hand. Jones, without seeing the card, had to reproduce the shapes. The pair performed well, which makes sense. They also played well alongside one another. Other communication drills include improvisational drills similar to the showWhose Line is it Anyway? In one drill, Hightower and quarterback AJ McCarron got their Wayne Brady and Ryan Stiles on while teammates watched and chuckled. "AJ is pretty hot with the ladies," Hightower said, "so he kept putting me into situations to talk about girls."
Another critical piece of Moawad's training involves attitude. He said that a player who says, "I can't practice in this heat" will need 10 positive experiences to counteract that one negative thought. Moawad said one of the early challenges with the Tide was convincing players to believe they could perform the tasks required of them. "The general operating principle at most programs is 'seeing is believing.' I'm going to have some success. Then I'm going to start to believe it," Moawad said. "Coach Saban's overall philosophy is the exact opposite. Believing is seeing. Once you believe it, you're going to see it. That's how you go from 7-6 [in 2007> to 12-2 [in 2008>."
Moawad trains players to believe by changing their internal monologue. He said an athlete says 800-1,400 words a minute to himself on a subconscious level. Those words must be positive, and they also must be the correct words that allow the player to focus on the task at hand and not some distraction in another part of his life or on some external influence like, say, 100,000 screaming fans. Moawad often uses the example of sprinter Michael Johnson, who tried to limit his internal monologue to the same four phrases during a race.