World-renowned Biomechanics expert, Dr. Ralph Mann, assesses IMG's NFL Combine Trainees
January 16, 2012
by: intern
Dr. Ralph Mann currently serves as the head of the Sprint/Hurdle Division for the Elite Athlete Program of USA Track and Field. Dr. Mann is one of the most respected and innovative figures in Sport Biomechanics and is considered a pioneer in using footage of athletes and producing computer-based teaching technology.
Not only is Dr. Mann a world-class sports Biomechanics expert, but he was also a world-class track athlete himself – with such accolades as a former world record holder, a three-time NCAA champion, a three time All-American and a U.S. representative in the 1972 Summer Olympics.
In addition to having an elite speed coach in Loren Seagrave, IMG Academy continually explores ways to stay on the forefront of new training techniques and technology. The 40-yard dash is one of the most heavily-weighted events at the NFL Combine. IMG Academy works with its athletes to make improvements from both a speed training (Loren Seagrave) and technical analysis (Dr. Mann) perspective.
Said Seagrave, Director of Speed and Movement, "IMG prides ourselves to not only be on the cutting edge in the way we train our athletes, but to also sharpen that edge."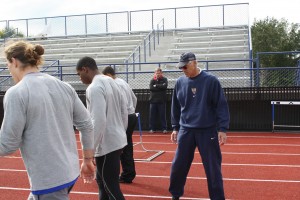 "Dr. Mann's innovative teaching technologies can help you improve a tenth of a second in the first three meters of the 40 yard dash," he continued

Seagrave, one of the originators of the dedicated NFL Combine Training program, continues to attract industry innovators to IMG through his global connections within the track and field world.