The 2012 IMG Academy Coaching Symposium is a success
October 09, 2012
by: intern
Over the weekend, IMG Academy hosted basketball coaches from around the nation to take part in the inaugural IMG Academy Coaching Symposium. Headlined by keynote speaker Jay Bilas, one of the most respected analysts in college basketball, coaches were able to share knowledge on a variety of new drills, advanced coaching techniques and methods to better communicate with their players.
"I think that the Symposium was very good in terms of teaching the coaching concepts; learning to improve; thinking that there's always area for improvement; and most importantly, teaching coaches their responsibilities with influencing on young men and young women," remarked Kenny Natt, IMG Academy's Director of Basketball.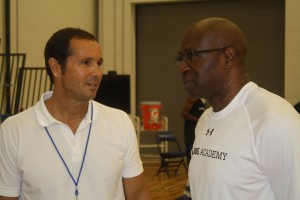 It was also an opportunity for coaches to experience the Wooden Leadership Program, a program inspired by the teachings of legendary college coach John Wooden and his Pyramid of Success.  To introduce the program, Greg Wooden, the grandson of John Wooden, was in attendance to talk about his experience growing up in the Wooden household, his grandfather's contributions to basketball and how to apply those teachings on- and off-the-court.
Jay Bilas shares his knowledge

Jay Bilas has been a fixture on ESPN's college basketball coverage, and the two-time Emmy nominee for 'Best Studio Analyst' shared much more than his opinions on which team is poised to make a deep run in the NCAA Tournament. Oftentimes, people do not think of Jay Bilas the college basketball player and coach. He was a four-year player for Mike Krzyzewski's Duke Blue Devils (1983-86) and spent several years as a coach at the collegiate level. Over the weekend, Bilas shared his decades of knowledge with fellow coaches.
"I think we have an obligation – all of us that love the game – to share what we know about it," said Bilas. "It's a joy for me to be around
so many smart basketball people that are as willing to share what they know, and I ended up coming away with more ideas than I came here with."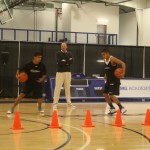 Bilas interacted with other coaches, sharing insights and helping others hone their craft. However, he raved about Kenny Natt's acumen as a coach. Bilas commented, "Kenny Natt was not only a great player, but he is an outstanding coach. He's got a great mind for the game. I think he sees the whole, rather than the parts, extraordinarily well."
Coaches get first experience with Wooden Leadership Program
Earlier this summer, four divisions of IMG Worldwide and the Wooden family joined together to create an exclusive leadership program offered at IMG Academy inspired by the teachings of the legendary coach John Wooden, and tailored to a variety of audiences, with a focus on the college coach. The Coaching Symposium 'unofficially' marked the launch of the program with a special presentation by Greg Wooden.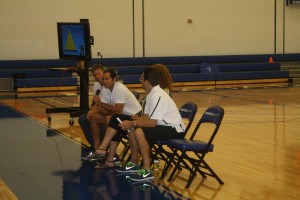 "We're happy that our family has an alliance with IMG, and thrilled that they're teaching my grandfather's philosophies, core values and how he lived his life," said Wooden. "I know if [John Wooden] was here today, he would want to make a difference with the coaches and the players.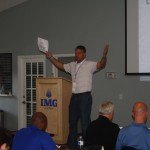 Jay Bilas was not shy to share his admiration for the legendary coach and his thoughts on the new program, saying, "[John Wooden] was so kind and gentle off the floor, but could be such a demanding coach on the floor without ever being a demeaning coach in any way."
Continued Bilas, "I think it's wonderful that IMG has partnered with the Wooden family to try and carry that legacy forward, so now that after Coach Wooden has passed, his legacy can continue to be carried on and continue to be influential on today's coaches. All coaches want to do the right things and get better, and I think this program will help them."
During Sunday's sessions, Greg Wooden and Ashley Armstrong, UCLA's Director of Student-Athlete Development, addressed the crowd and shared their personal stories about John Wooden and living the lessons of the Pyramid of Success. Afterward, the coaches in attendance gathered in a classroom setting to take part in an exclusive leadership session, led by IMG Academy's Director of Athletic and Personal Development Trevor Moawad. All coaches who went through the course earned an IMG Academy/Wooden-approved leadership certificate of completion.
Coaches went the distance
Basketball coaches came from all around the nation to attend the inaugural IMG Academy Coaching Symposium – some traveling more than 2,000 miles. The allure to learn from great minds like Jay Bilas; renowned basketball trained Rob McClanaghan; and the IMG Academy basketball staff, in addition to getting training and insight on the coaching philosophy of John Wooden was a big draw.
"I came here because of the influence of John Wooden had on my life as a high school coach for 20 years," said  Mark Turner, the head coach of Church Farm School in Exton, Pa. "To be able to meet [John Wooden's] grandson, and to hear a little more about the personal insights that Greg [Wooden] shared with the coaches has made it very advantageous for me."
Distance was certainly not a factor for David Retton, the head coach of Fairmont High School in West Virginia. Said Retton, "We had high expectations for the clinicians and the information we thought we would receive … The speakers, the trends of where they're going with the game, the knowledge, how they coach, their passion – it's far exceeded what we expected."