IMG ties Miami 0-0
February 28, 2009
by: IMGSoccer1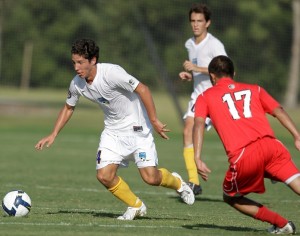 The 3pm kick-off built anticipation as the IMG U-18 boys who are currently tied for second in their division in the US Development Academy League, hosted Miami FC. If last year's game was any indication of what was to come, the fans were in for a treat.
First half action was at its peak as the IMG team controlled the ball for the majority of the time. A hard struck volley in the 12th minute from forward Benny Barshai crashed off the crossbar keeping the game even. Constant pressure from Miami kept the defense honest and the half ended 0-0
The second half was no different that the first, as both teams pushed forward trying to get that go ahead goal. IMG Captain Luis Ocejo found himself within striking range several times yet was unable to capitalize which happened to be the case for both teams. The game ended 0-0 and as players shook hands and the stands cleared, both teams will regroup for a rematch, Saturday March 28th in Miami.