U-16 Boys host Miami FC at Academy Park
February 28, 2009
by: IMGSoccer1
Saturday morning the U-16 boys US Development Academy Team suited up and took the field to face southern neighbor Miami FC in league play. As the first whistle blew, IMG forced the attack and put Miami on their heels. Quick play out of the back by IMG defender Atticus DeProspo launched the first half attack as forward Mattias Rubio, and Andres Acevedo pushed past Miami defenders with hopes to capture an early goal. To no avail, the battle stayed even as the first half came to an end tied 0-0.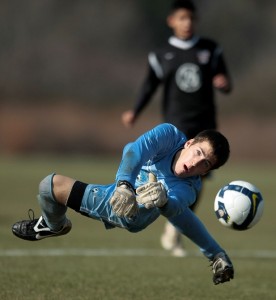 As fan support stayed high, the second half begun and despite their efforts, IMG conceded a late, back breaking goal in the 75th minute which was all Miami needed to win the game.
Currently in third place in the Southeast division, IMG will on the road next to face Greensboro and CASL Chelsea FC in North Carolina March 14th and 15th.