Two IMG Champions Emerge from Florida Cup
March 09, 2009
by: IMGSoccer1
The first Annual Florida Cup has come to an end, a successful weekend of soccer, a success for the IMG family.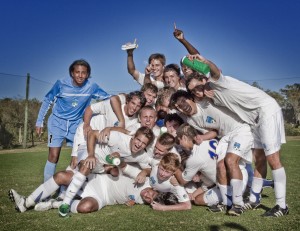 Both the U-18/19 Boys and U-18/19 Girls left Sunday afternoon with another notch in their belt after winning the prospective groups. The U-19 girls had no trouble at all, defeating each opponent by large margins and conceding no goals. Shutouts in all three matches from Goalkeeper Jade Davis secured the girls a Championship with ease. Consistent play from the whole team gave Coach Giovanni Fernandes yet another title with this group of athletes.
The boys however had a bumpier road the victory. Leaving group play with two wins and one tie, they faced northern rival Lakeland FC once again in the finals. A stunning first half goal from first year student Ben Leisveld gave IMG an early lead and Ben his third goal of the tournament. While each team was fighting hostile fans, Lakeland struck in the 25th minute of play with a header that beat Goalkeeper Reynaldo Sturrup. As the half came to an end tied at one goal a piece, murmurs of overtime and penalty shootouts echoed in the stands, but IMG had different plays. Pressing the attack with a secure back line, IMG played most of the second half on Lakeland's side, time after time streaking down the wings with crosses and shots. It wasn't until the final 10 minutes that senior forward; Juan Garcia dribbled past one defender, beat the goalkeeper and scored the game winner.
The crowed cheered, coaches' shook hands, and players congratulated each other on a well fought match. A much deserved victory for the boys and girls as the first ever Florida Cup U-18/19 Champions. Congratulations to all our athletes who participated.