Big weekend pushes Bradenton PDL team to first place
May 26, 2009
by: Dan Tierney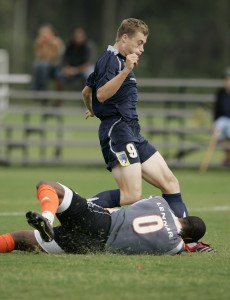 The Bradenton Academics are one of nearly 70 teams from around the country representing the United Soccer Leagues in the Premier Development League, which mainly consists of college-age players. The league will run throughout the summer.
Zak Boggs triumphant return to his former stomping grounds continued this past weekend when the former IMG Academy soccer program and current University of South Florida student scored a hat trick in the Bradenton Academics' dominating 3-1 win against the Atlanta Blackhawks (1-3-1).
Boggs leads the Academics (3-0-2) with five goals on the season.
On Monday, Boggs and former IMG Academy soccer program student Happy Hall played facilitators, with both registering assists in a 2-1 win against the Mississippi Brilla. Ben Everson and Matthew Clarke scored for the Academics. The win pushed the Academics into first place in the Southeast Division, while dropping Mississippi (3-1-1) to second.
Bradenton will next host the New Orleans Jesters (1-0-3) at 5:30 p.m. Sunday. The teams tied 2-2 in New Orleans earlier this season.