Emilio Villareal, IMG Academy Boy's Soccer Athlete of the Week: July 9 - 13
July 13, 2012
by: Taylor Goldman
Every week at least one athlete from each sport will earn theGatorade €œG Standout Award€/IMG Academy Athlete of the Week for displaying Heart, Hustle and Soul, and exhibiting a true desire to reach their true athletic potential.
TheIMG Academy Boys Soccer Summer Camp winner of the Gatorade €G€ Standout Award/IMG Academy Athlete of the WeekAward is...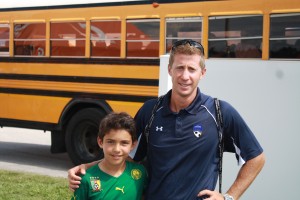 Emilio Villareal
Age: 13
Hometown: Coahuila, Mexico
Favorite Athlete: Lionel Messi
Favorite Team: Barcelona
Best Advice Received: "When you have the ball, keep your head up"
Favorite Part of IMG Academy: "The soccer fields are amazing"
Biggest Athletic Accomplishment: Playing in the Mexican National Cup
Favorite Subject: Biology
Favorite Band/Musician: Maroon 5
Biggest Superstition/Habit Before Competition: "I have to find my concentration before I play"
This player has displayed Attitude, Concentration and Effort on a daily basis and has received recognitionby our coaching staff. Our coaching staff strives daily to deliverQuality Instructionwithin aCompetitive Environmentand provide all of our summer camp athletes with theOpportunityto fulfill their individual athletic potential.Athleticism, Strict Discipline, High Work-Rate,and aWinning Mentalityare the minimum expectations. CongratulationstoEmilio, who has excelled!