Ryan Glenn set to be a Cyclone
October 29, 2012
by: jclark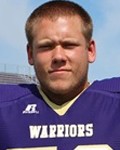 IMG Academy trainee Ryan Glenn is an emerging prospect as an offensive lineman, and recently was rewarded with a scholarship to attend Iowa State University. A lifelong Cyclone fan, only a few days passed before Glenn gave his verbal commitment.
Featured in this article from Scout.com, Glennrefelected onthe benefits of his training experience at IMG Academy:
"I had a blast," said Glenn. "Everything you need is located all right there in one place, and I got to train using unbelievable facilities and learn from some of the best coaches. I learned a lot working with Coach Tom Nutten and Coach Michael Gruttadauria. They paid very close attention to detail and placed a huge emphasis on footwork. They helped me improve my footwork and how I use my hands. It was a great learning experience training alongside a couple of guys, David Knevel and Patrick Douchette, who will also play in college next fall."

"I worked with Coach Eric Grantham in the weight room. He came from the University of Alabama as a strength coach on their first national championship team under Coach Saban and taught me techniques that I applied to my every day workouts when I returned home. I learned the appropriate way to squat, one-legged squats and a great medicine ball dynamic warm-up that I useall the time. I picked up little things that have benefited my overall development."
IMG Academy congratulates Ryan Glenn on his well deserved opportunity, and awaits his next visit to campus!