IMG Academy lacrosse program's Matt Xirinachs talks college
October 25, 2010
by: kberard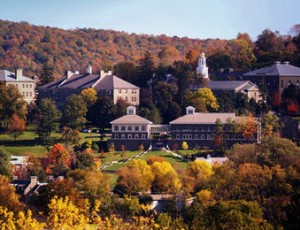 I've been running around the past few weekends and beginning my visits to colleges. I took a trip to Colgate University, in Hamilton, New York, to play in their "Raider Sunday." A lot of kids from all over the northeast came out to play, and the competition was great! The campus was beautiful, and outlined with big stone halls and interesting architecture. The weather could have been better, however. When I arrived, it was still very cold, hovering around 35 degrees. With the fields frosted over, I realized it was no Florida. Throughout the day, it warmed up, and ended up being a great day for lacrosse. We played five games, and by the end of the day, everyone was beat. The competition was great; playing with other recruits and kids who love the game was a fun experience. On the way home, I was able to see the area surrounding the school. With the trees changing colors, the scenery was a big draw. I'm definitely happy I took the trip to see the school.
Also this past weekend, I took an overnight visit to Rollins College in Winter Park, Florida. I've visited the campus before, unofficially; yet this was my first opportunity to stay overnight. The campus reminded me of a country club, including an Olympic-sized outdoor pool, beach volleyball courts and a lake that you can see from almost every dorm room. I was introduced to some members of the men's team and ate lunch in the cafeteria with them. My host for the weekend was a freshman attackman from Ridgefield, Connecticut, Jack Philbin. He told me about the team, where they are headed, and what they hoped for the upcoming season. Also, I picked his brain about why he chose Rollins and what his biggest regret was, and he said he had none! Later that night, I met the rest of the team and hung out with them all night. The group was really great and the team chemistry was perfect. Everyone, underclassmen or upper, got along with everyone else. They were all friends and all respected each other like brothers.
These two colleges both have very much to offer any student. I look forward to continuing my college search in the future and I will keep you all posted.