IMG Academy hosts 6th annual Fire Lacrosse Combine
December 10, 2011
by: twestervelt
More than 200 lacrosse players converged on the 4 lacrosse fields at IMG Academy today to attend the Fire Lacrosse Combine. The athletes were put through warmups with staff from the Athletic & Personal Development program before going through a series of drills and skill evaluations.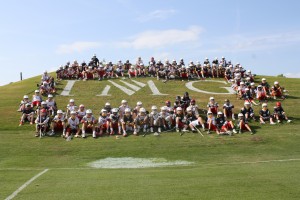 Skill evaluation will include a series of progressive drills by position that allow the coaching staff to assess level of competency. Positional drills are followed by transition drills that lead into settled and unsettled situations designed to assess field awareness and game-level IQ. The drills then transfer to age-specific scrimmaging to determine a player's ability to produce team-level results in a competitive situation.

The skill evaluation portion will include top lacrosse coaches like Rory Whipple (Head Coach for the University of Tampa and Combine Director), Steve Beville (Head Coach of SUNY Cortland), Bill Bjorness (Head Coach of Hartwick College) and Mark Burnham (Assistant Coach of Iroquois National Team).
After a day on the field, the players will move to the turf and go through a Combine360 evaluation.
The combine testing portion will be delivered by Athletic & Personal Development program specialists, who created the revolutionary Combine360 platform in accordance with Under Armour. Assessing athleticism, movement and character, the C360 evaluation measures overall athleticism and records sport-specific ability and mental aptitude, nutritional level, ability to communicate and a variety of other performance disciplines allowing athletes of all abilities from across the world to compare their scores.
For more information about the event or the Tampa Bay Fire go here.
Here are a few pictures from the event:
[gallery link="file" columns="4">