Florida Cup Action Kicks Off
March 07, 2009
by: IMGSoccer1
The first Annual Florida Cup kicked off today as teams from all walks of life laced up their boots, and took the field. With high expectations, the IMG teams were forced to raise their level and start off on a winning foot.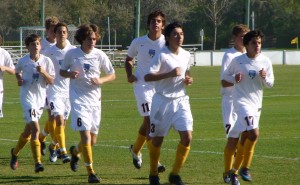 The U-16 Boys started the day with a win vs. Boca Jr. Oscar Pizano, the newest addition to the coaching staff from Argentina, prepared all week in order to give his players the best opportunity to compete well, and they did. First half action began with IMG dominating the time of possession and pressed quickly into Boca Jr. Territory. Dylan Gillespie wiggled his way past Boca defenders and found the back of the net giving IMG a early lead. Being comfortable with the lead, IMG failed to mark a quickly played ball into the middle and Boca sent the game into halftime 1-1.
As both team confidences grew into the second half, IMG struck again with Bahamas' native, Stephen Nembhard scoring in the 50th minute of play. That goal proved to be all IMG needed to secure their first win of the day with the score of 2-1.
The Boys will be back in action today at 2:40pm vs. HC United Premier at Old Soccer.