What it takes to.....
March 19, 2009
by: The Leadblogger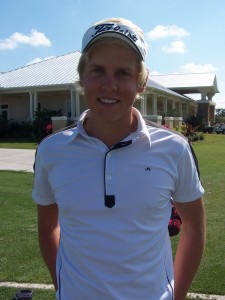 What it takes to....
Train at the David Leadbetter Golf Academy
I have to be organized. A day here at DLGA is not a normal or typical day. The days are longer and tougher than most. I have to stay focused....and I can never give up. There aren't many stops along the way - I have a lot to fit in a day. I have to be accountable for my own game.
Know my own game
I have a blueprint...a plan of improvement. I am working on shallowing out my divots by having a shallower angle of attack. So I have a weaker arm position at address with both arms, taller posture (with more upright clubs), shaft more neutral at address (I use to have a forward press) and more level shoulders at address. I continue to work on how my shoulders work in backswing.
To get better
I make sacrifices. I live away from most of my family and I have had to adjust to living in a new country. I work on my fitness. I believe a golfer has to have stabilization, balance and strong legs. I believe in eating right...nutrition is important.
To be the best
I need to practice harder and smarter than the next guy. Perseverance!