IMG Academy Bollettieri tennis program adds former student/WTA player to coaching staff
June 03, 2011
by: Dan Tierney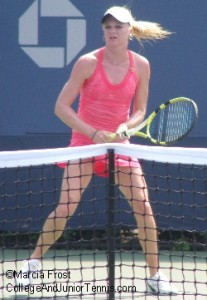 At age 9, Kim Couts participated in her first IMG Academy Bollettieri tennis program camp.
At 13, she enrolled as an Academy student before turning pro at 16. At 18, she utilized IMG Academy Bollettieri tennis program as her training home between tournaments and in the offseason.
Now at age 22, Kim Couts is back at the Academy in a new role.
Coach Kim Couts.
This week, Couts was officially added to the world-renowned IMG Academy Bollettieri tennis program coaching staff.
"I totally understand what students will be feeling. I've been there and done that. I've taken so many lessons. I've been through this environment. I get it. I've received a lot of coaching, so hopefully I can use that and translate that knowledge to the kids."
Originally from New Jersey, Couts and her mother moved to Bradenton after deciding that the lack of favorable weather and usable tennis courts were hindering her growth as a tennis player. Couts became one of the top juniors in the world, playing in all of the junior Grand Slams.
In 2006, she officially turned pro, reaching a career-high ranking of 259 in singles and 157 in doubles, including a win against former world No. 1 doubles player Sam Stosur and a partner.
"She's lived the dream that many of our students have," said Chip Brooks, Director of IMG Academy Bollettieri tennis program and 1999 USPTA National Professional of the Year. "She's played the game at the highest level as a junior and a pro and can provide the kind of instruction only someone who has played at that level can give."
For Couts, it's a chance to give back and honor all of the coaches who helped her along the way.
"I've seen so many clubs and so many academies in all my travels, but there's nowhere else in the world like this place," she said. "Being in this environment, it's had a hugely positive effect on me and hopefully I can help show students what they have to do to reach their goals."