IMG Academy Bollettieri tennis program alum begin their US Open journey in Atlanta
The journey towards the US Open has already begun in Atlanta this week as the Atlanta Tennis Championships kick off. The Atlanta Tennis Championships is the first tournament in the US Open Series. Players compete throughout theten tournaments in the series to gain points and a chance to win additional prize money in the grand slam US Open. These tournaments also serve as a great warmup for the major tournament.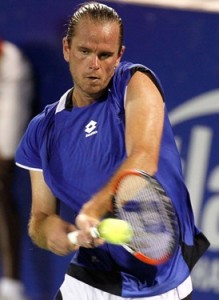 Xavier Malisse at the 2010 Atlanta Tennis ChampionshipsThe impressive list of IMG Academy Bollettieri tennis program alum include Xavier Malisse, Tommy Haas, and Ryan Harrison. Unfortunately, Kei Nishikori had to withdraw from the tournament due to an injury. Malisse is seeded fourth in the singles draw and has a possibility of playing Harrison in the second round. Harrison plays his first round match today against qualifier, Yuichi Sugita of Japan. Haas has an exciting first round match against Atlanta native, Robby Ginepri. They have played each other five times in the pastand Haas has won four of those meetings. The last time they met was in the2006 US Open in thethird round. Haas defeated Ginepri in five sets. This matchup can only result in an epic first round battle.
All the actionbegins tonight startingat 4 pm at theRacquet Club of the South. Televised coverage of the tournament will begin on July 22 on ESPN 2.