Tommy Mylnikov, who trains at the IMG Academy Bollettieri tennis program, won the Eddie Herr titles
December 04, 2011
by: largeinc
By: IMG Academy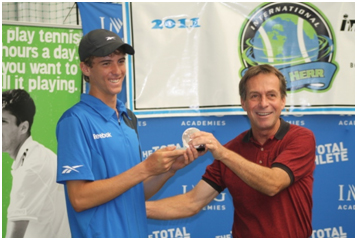 And then there was one…
With a win over Alex Schafer on Sunday morning, 16-year-old Tommy Mylnikov of Canada captured the Boys U16 Division Title at the 2011 Eddie Herr International. A wildcard entrant, Mylnikov had previously played in five Eddie Herr events but had never before reached a championship match: "My first Eddie Herr I played in the Under 12s when I was 8. I made it to the round of 16, which was great for me. After that I made it to either the 2nd or 3rd round until I made it to the round of 16 last year."
Each year of the tournament, however, Mylnikov saw marked improvements: Remarked the newly-crowned champion, "I never had a doubt that I could be a great player. My ultimate goal is to one day be ranked #1 in the world with multiple grand slam titles."
Mylnikov's training schedule matches his dreams. He routinely spends 8-10 hours a day on the courts: "Tennis players are getting bigger and faster every tournament. I need to keep up with my footwork and training if I want to beat them."
Mylnikov came to IMG six years ago after making a trip to Naples and meeting a coach who told him he had to "check out this place in Bradenton." The next year, Mylnikov enrolled at IMG Academy and has been there ever since. 
These days Mylnikov works mainly with Jose Lambert and Glenn Weiner. Lambert and Weiner work in concert to make sure Mylnikov is playing to the best of his ability. Both coaches are different enough that Tommy gets a different training experience when he works with both of them: "Glenn is the more relaxed of the two, but he still makes sure I work hard.  Jose is more technical and is interested in the mechanics of my swing more. It's good to have the differing styles to mix up my training."
Even though most of his time is spent with his two coaches, he credits the whole IMG Academy Bollettieri tennis program community with helping him succeed: "Everyone here works together to help me; they are always there if I need them. It really is like a family."    Mylnikov's desire to be great is a big part of his growth at IMG Academy. Win or lose, he says there is always something that could be done better: "After every match, win or lose, I talk with my coaches and family who were watching and we discuss what I could have done better. When I go out to train for my next match we give priority to the things we noticed in the previous match. Even the best could always get better."
The future looks bright for the now defending Eddie Herr U16 champion.