HP sends young Japanese tennis players to IMG to train with Bollettieri
January 20, 2012
by: Robby Ficker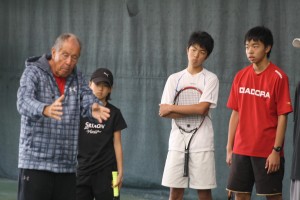 As part of theIMG Bollettieri Tennis Academy Junior Player Dispatch Program Hewlett-Packard sent several top young Japanese tennis players to the IMG Academy Bollettieri tennis program.
The three players are from the Tohoku region in Japan and were victims of the earthquake and tsunami that devastated the region in March of last year. In November, alongside the HP Open and in response to the disaster, the IMG Academy Bollettieri tennis program ran a clinic for Japanese youngsters encouraging them to play tennis. Of the clinic participants, Saki Oyama (11 years), Kaito Taguchi (13 years), and Keisuke Someya (15 years)were chosen to receive a week of training at the top tennis facility in the world, with Hewlett-Packard taking care of the expenses. The events served asencouragement and motivationfor people of that region to not only play tennis, but to continue the fight to return to the norm.
This week Bollettieri has taken the time towork directly with the talented young trio to improve their game, a huge opportunity that they are definitely taking advantage of.
A morning session with Bollettieri on Tuesday consisted of an assessment of each player's game in key areas including: forehand/backhand, volleying, playing the net, and serving. The language barrier was obvious and a translator was used but it didn't seem to hinder the tennis training at all, as Bollettieri was able to communicate with the Japanese players effectively and maintain easy-going interaction, often joking with the young athletes.
The players were quick to pick up what Bollettieri was teaching, and although he was critical, he praised the young athletes considerably for their abilities, grasp of the game, and willingness to get better. He ended the session by working through the translator to address each player's game individually.
Bollettieri found both the boys to be very strong players, but had particularly bold praise for young Oyama.
"I'm going to call her 'Monica Seles'," Bollettieri announced several times, no doubt a comment on Oyama being left-handed and her style of hitting with both hands from both sides. But that comment also referred to her ability at such a young age, something that the IMG Academy Bollettieri tennis program could see more of.
The IMG Academy Bollettieri tennis program is an attractive place to train for Japanese players because of the success of Kei Nishikori, an IMG alum, and IMG Academy looks forward to seeing more Japanese players in the future. The culture of Japanese junior tennis is strong, as Oyama, Taguchi, and Someya look to add to it, and all three are looking forward to see how their game has improved when they return to Japan.
Their coach, Norio Fukui, wasadamantabout what the players will take from this week:
"They learned a lot of new things, which is very good. They reallybenefitedfrom being able to work with Nick Bollettieri," Fukui said through a translator. "They also enjoyed the opportunity to play afternoon matches against other players."
The players have certainly overcome a lot and are subjects of excitement for Japan and the region of Tohoku.
[gallery>