Getting to know: Director of the IMG Academy Bollettieri tennis program Rohan Goetzke
May 24, 2012
by: Nick's Picks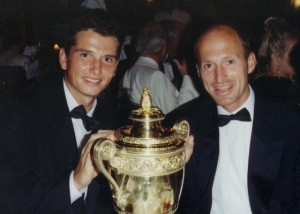 When Rohan Goetzke steps on the court, he looks beyond talent. He looks to the future.
Goetzke, current Director of the IMG Academy Bollettieri tennis program and former Technical Director of the Dutch Tennis Federation, analyzes more than the present. It is: What could be? How much untapped potential exists?
Take the case of Richard Krajicek. Krajicek was a tall, hard-hitting Dutchman who showed flashes of brilliance mixed with inconsistency. Three years after Goetzke took him under his wing, Krajicek won the Wimbledon title - one of 14 titles he would win with Goetzke as his coach.
"Together with my coach, Rohan Goetzke, I found myself in the worldwide top ten for years," Krajicek told De Volkskrant, a Dutch national newspaper, after retiring. "I was ranked fourth in the world and, of course, had my name placed on the Wimbledon trophy. Wimbledon was the culmination of my career."
Says Krajicek these days: "Rohan might have begun as my coach, but he soon became a big brother, and eventually a great friend. He took a chance on me when I was 19 and ranked #800 in the world, and remained loyal to me until the end of my career. Today, when he calls me, a picture of the two of us celebrating with the Wimbledon trophy shows up on my cell phone."
Before he arrived on the national stage as a coach, Goetzke began a promising tennis career in his native Australia. Originally pursuing an Engineering degree, Goetzke left school to pursue a career in tennis. After years on the Australian and European professional circuits, Goetzke found his calling as a coach, first as a coach at a private school in Belgium and then with the Dutch Tennis Federation.
Soon after joining the Dutch Tennis Federation staff, Goetzke also began working with Krajicek and another youngster with massive potential in Mario Ancic. Goetzke helped push Ancic from a worldwide ranking of 107 to a career-high of 17, including a Wimbledon semifinal appearance.
Wrote the Sydney Morning Herald of Ancic: "There has been no query of his ability, particularly on grass, but with the help of Australian coach Rohan Goetzke… his second serve has improved, his game now more complete. At 20, the supermarket-owner's son is a Grand Slam semifinalist."
Rivaling his success in developing professional players, though, is Goetzke's talent in developing young talent. Tabbed to lead the Dutch to global tennis prominence, Goetzke was first named National Head Coach and then Technical Director of the Dutch Tennis Federation, for which he also served as Davis Cup and Fed Cup coach. Personally involved with the development of countless young tennis players, Goetzke helped shape the newest generation of Dutch stars including Robin Haase, Thiemo de Bakker, Arantxa Rus, Michaella Krajicek and many others.
At IMG Academy, Goetzke serves in a similar role - overseeing all aspects of the tennis program, ensuring delivery of the best training and development to each and every athlete at the junior, high school, collegiate, post-graduate, collegiate and professional level. He also works closely with Nick Bollettieri, the legendary tennis coach and founder of the IMG Academy Bollettieri tennis program.
"Rohan is a tremendous leader and resource," Bollettieri said, "not only to our staff and to our athletes, but also to the families who are looking to ensure that their children receive the best development possible."
Overseeing a staff of nearly 50 coaches, Goetzke continues a strong IMG Academy tradition of developing high-performing student-athletes on and off the court.
"(Goetzke) is the ideal bridge-builder because no one challenges his qualities as a coach," Jan Siemerink, another pro Goetzke helped reach top-20 worldwide status, once told De Volkskrant.
And Goetzke continues to bridge the gap between the present and future success of the IMG Academy tennis program.