Liguori: Coaching Great Nick Bollettieri With Advice For The Top American Male Players
August 31, 2012
by: largeinc
Nick Bollettieri's credentials speak for
themselves.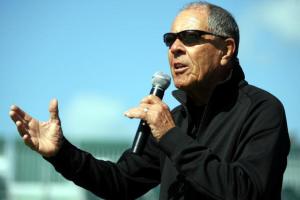 The legendary coach has worked with hundreds of players, is credited with developing Andre Agassi, Jim Courier and Monica Seles, worked with Venus and Serena Williams, Maria Sharapova, to name a few. He founded the Nick Bollettieri Tennis Academy in Bradenton, Florida years ago before it became IMG Academy, situated on 500 acres, with programs in seven sports.
So when Nick visits me in the broadcast booth for our annual chat, I was interested in getting his thoughts on some of the top young American guys. Here is what the perceptive coach, now 81-years-of-age and still going strong, has to say about a few of the American guys.
"It's difficult to carry the torch and follow in the footsteps of Andy Roddick who gave it his all. John Isner is doing extremely well. If he would come to net more, I believe he could be a contender, break into the top five…Isner needs to become the explosive giant. When you have a serve like that and excellent groundstrokes and he can volley, but the longer he stays back at the baseline against a Djokovic or Nadal or Murray, his chances diminish tremendously. He has to add more imagination to his game."
Jack Sock: "he'll obviously have a big test in Nicolas Almagro." (Almagro beat Sock in four sets, 7-6, 6-7, 7-6, 6-1). "Jack has a big serve, a big forehand. He's athletic, very strong; he may have to work on his physical conditioning a bit. Jack Sock is a young boy and looks to have a very bright future; it looks like he's for real."
Donald Young: "he signed that big contract when he was 14 years old and for the next three or four years, whenever he saw a gym, he would go in the opposite direction. Right now he's 22 years old. He's got to make a dramatic change. His Mom and Dad whom I know well probably need to consider a coach who can bring more out of him. He only has another year or two left."
Ryan Harrison: "he and his younger brother Christian are doing very well in doubles. Ryan needs to know how to win the big ones. Everything else needs to become secondary."
"Dennis Novikov is another bright young boy. Sam Querrey improved in the rankings. Rhyne Williams is a big boy. He's got a bright future as well."
We have a lot of possibility but going from a possibility to becoming realistic is a big thing."
When I asked Nick what it takes to go from an excellent player to a superstar, he replied, "Physical conditioning…just hitting the ball is only a fragment of the game. It's time in the gym, working on movement, working on recovery, the mental part of the game. To be a star you have to be able to do a little bit of everything."
More about Nick coming up in a book by David R. Legge that is scheduled to be out this fall: "It Ain't Easy," The uncensored, unabridged, authorized biography of Nick Bollettieri, one of the greatest tennis coaches of all time." For more information, visit www.BollettieriBiography.com.'