2012 Eddie Herr International Junior Championships at IMG Academy, finals results
December 02, 2012
by: intern
The 2012 Eddie Herr International Junior Championships drew to a close on Sunday.
History was made today when Croatia's Ana Konjuh, fresh off her victory over the world's No. 3 player Katerina Sinikova, became the first 14-year old in the history of the event to win the Girls' 18s Division. Konjuh squared off against Austria's Barbara Haas for the final match. Exhausted from such an intense week, Haas fought hard, but could not overcome Konjuh's overpowering serves. Konjuh won the day in straight sets, 6-1, 6-1. This was Konjuh's fifth year playing in the Eddie Herr. Her previous best in the tournament was a Girls 14s semifinals appearance in 2011.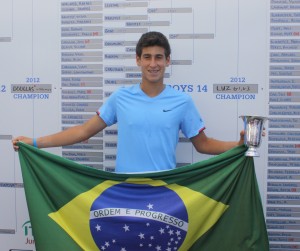 The Boys' 18s Division provided the most drama of the day. Serbia's Laslo Djere struck first, downing Chile's Christian Garin quickly in the first set. However, Garin came to life in the second set, refusing to lose and fought back from considerable deficits to win the Eddie Herr Boys' 18s Division. The 16-year old Garin defeated Djere, 0-6, 6-4, 7-5. It was a major milestone for the young Chilean to win in the same tournament as his idol and countryman Marcelos Rios, an IMG Academy Bollettieri Tennis alumnus who won the Eddie Herr Boys' 18s in 1993.


Another notable performance was that of Brazil's Orlando Luz. Luz not only won the Boys' 14 Division, but upheld his undefeated record in Boys' 14s on the year, improving to 31-0 (45-5 overall). Luz won in straight sets over the United States' Evan Zhu, 6-1, 6-3.
For more information on the event, visit www.EddieHerr.com.
For the full finals results, visit the Eddie Herr USTA page by clicking HERE.
More photos from the day:
Singles Finals Results:
Boy's 18s Singles
Christian Garin (8), Chile, def. Laslo Djere (6), Serbia, 0-6, 6-4, 7-
Boy's 16s Singles
Ku Keon Kang (1), Korea, def. Jordi Arconada, United States, 6-0, 6-0
Boys' 14s Singles
Orlando Luz (1), Brazil, def. Evan Zhu (4), United States, 6-1, 6-3
Boy's 12s Singles
Alen Avidzba, Russia, def. Nikolay Vylegzhanin (3), Russia, 6-1, 6-2
Girl's 18 Singles
Ana Konjuh (7), Croatia, def. Barbara Haas (16), Austria, 6-1, 6-1
Girl's 16 Singles
Marie Norris (4), United States, def. Carolyn Xie, United States, 3-6, 6-5, 6-2
Girl's 14s Singles
Fanni Stollar (7), Hungary, def. Sofia Kenin (3), United States, 1-6, 7-5
Girl's 12s Singles
Ellie Douglas (8), United States, def. Anastasia Potapova (10), Russia, 6-7(4), 6-0, 6-2