Next-Level Golf Training
IMG Academy adult golf camps are available year-round for ages 19+, with programs for everyone, whether that be by growing their game from the foundational level or simply fine-tuning swing mechanics. See below for how to select the right camp for you and click "Book Camp" for a quick and easy online registration process.
All-Inclusive Adult Golf Camp Packages
Take advantage of the Legacy Hotel at IMG Academy and other campus amenities with one of our pre-packaged programs that create the ideal experience.
Stay & Play
Maximize your experience at IMG Academy by staying and training on site. Package includes:
1-day golf camp
1-day, 2-night Legacy Hotel reservation at IMG Academy
Relax & Recharge
The ultimate program to both improve and unwind. Package includes:
3-day golf camp
3-day, 4-night Legacy Hotel reservation at IMG Academy
One Wellness Spa session (options include 60-minute deep tissue massage, hydration facial or saltwater therapy manicure & pedicure)
Champions
Treat yourself like a true professional at IMG. Package includes:
5-day golf camp
5-day, 6-night Legacy Hotel reservation at IMG Academy
Two Wellness Spa sessions (options include 60-minute deep tissue massage, hydration facial or saltwater therapy manicure & pedicure)
IMG Academy training gear package
Customizable Adult Golf Camps
Register for our world-renowned golf programs in 1/2-day, 1-day, 3-day or 5-day durations
Foundation of all IMG Academy training programs
Coaching and instruction is customized to skill and experience with two sessions per day (½ day programs only offer 1 session)
Technical instruction for better swing consistency
Tactical coaching on course management, mental preparation and decision-making
Training for Every Skill
DEPENDING ON YOUR GOALS, HERE ARE JUST SOME OF THE SKILLS YOU WILL LEARN FROM OUR EXPERT COACHES:
Technical
Full swing, pitching, chipping, putting and in-depth individual video analysis; focus is on the individual (strengths and weaknesses) and how to best improve each area
Mental
Envisioning shots, decision-making, and pre- and post-shot routines during sessions as well as developing a positive attitude and confidence
Preparation
Mental discipline, shaping shots, pre-shot routines, recovery shots, drills and exercises
Competition
How you need to prepare for a round, match, or tournament, including how to eat and think leading up to competing during 18-and 36-hole competitions and making in-round adjustments
Equipment Fitting
In-house club fittings, recommendations, and adjustments available, including equipment checks
Expert Coaching
Explore our adult golf program's advanced training methodology that has sent more golfers to the professional tours than any other academy in the world. We provide a comprehensive program that focuses on every element of the game, including mechanics of the full swing, short game, and course management. With a variety of program durations and levels, we can accommodate any schedule and any skill level.
Coach Spotlight
Scott Bettger - Coach
For over 20 years, Scott Bettger has been coaching and motivating students of all ages in the game of golf. Despite playing professionally for four years, Scott's intention was never to become a professional golfer; instead he was more focused on teaching the game from course management and strategy to the fundamentals.
Golf Technology & Facilities
Adult Golf Campers Train Here
Golf Center with meeting rooms for players and coaches
Double-sided driving range with fairway bunker
Multiple target and putting greens

Portable TrackMan and K-Vest from Tour Studio used on practice ranges and greens.

18-hole golf course
Performance & Sports Science Center
State-of-the-art classrooms, strength and conditioning equipment, athletic training rooms, the Gatorade Sports Science Center, and additional advanced technology
Book Your Camp
Online Camp Builder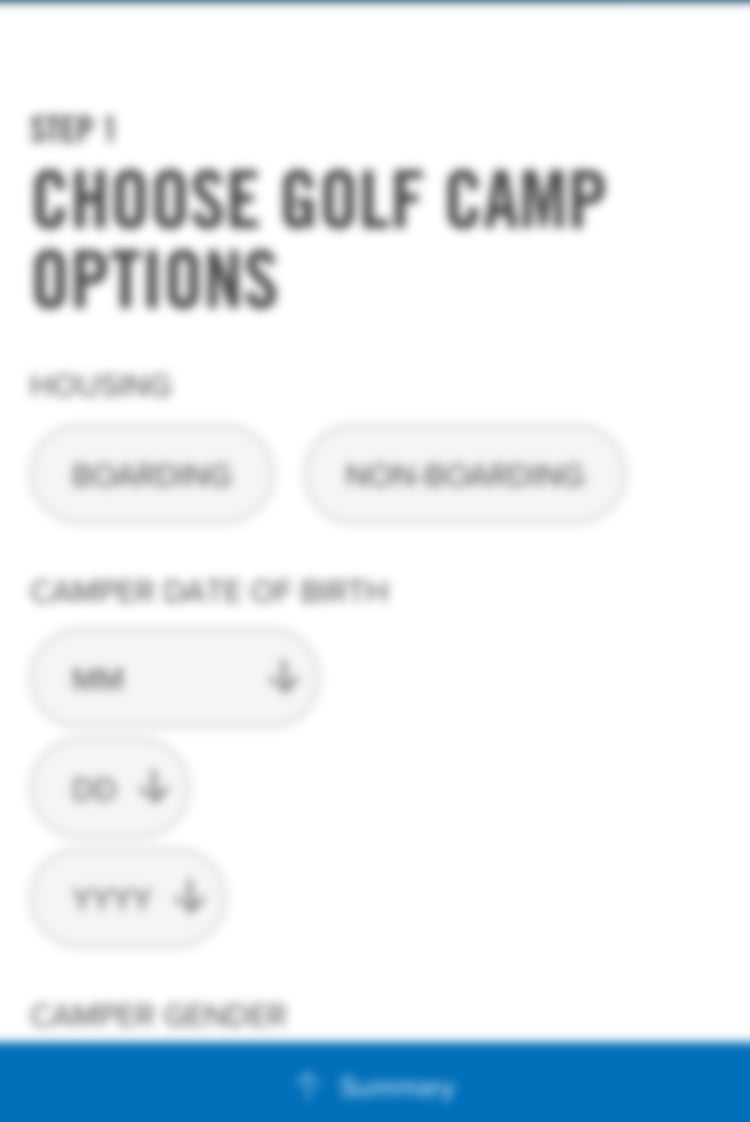 FAQ
Adult Golf Program FAQs