Korda, 18, rallies for breakthrough on LPGA tour
February 12, 2012
by: largeinc
USA Today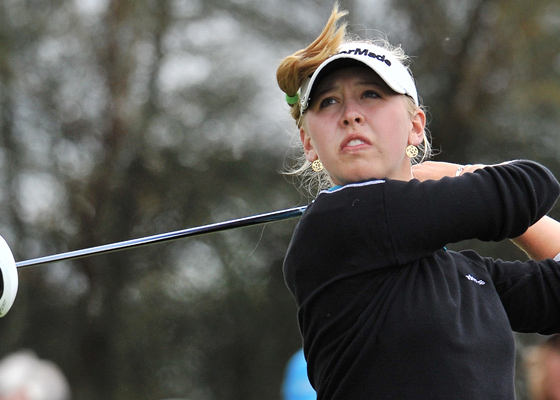 Jessica Korda broke out her father's trademark scissor-kick celebration Sunday when she won the Women's Australian Open at Royal Melbourne for her first LPGA title.
She decided against the cartwheels that her father, Petr, did when he won the 1998 Australian Open tennis title. Maybe Korda was still dizzy after a topsy-turvy final day of the tournament.
After losing the lead with a late bogey run, the 18-year-old American fought back to take the last spot in an improbable six-player playoff and won with a 25-foot birdie putt on the second extra hole.
"It is a really special place for my family," said Korda, making her 16th start on the LPGA tour. "For my first win, I honestly could not have thought of a better place."
What did her father say when they spoke by phone after the victory?
"That he was 'so proud of me and we'll talk about the three-putts after,'" said Korda, who earned $165,000.
She closed with a 1-over-par 74 to finish at 3-under 289 in the first women's professional event at Royal Melbourne, the difficult sand-belt layout that was the site of the men's Presidents Cup last year.
Stacy Lewis, Brittany Lincicome, Julieta Granada, So Yeon Ryu and Hee Kyung Seo also were in the playoff that matched the largest in LPGA tour history.
Ryu and Seo, playing ahead of Korda and Nikki Campbell in the second-to-last group, topped the leaderboard at 4 under going into the final hole of regulation but made bogeys to set up the playoff.
Lewis finished with 70, Lincicome and Granada shot 71 and Ryu and Seo 73.
Split into threesomes on the par-4 18th, all six parred the first extra playoff hole. Lincicome's 6-foot birdie try circled the cup and stayed out.
"I couldn't have hit it any better," Lincicome said. "It was perfect, perfect speed. Lips out and comes back to you."
Playing in the first threesome, Lincicome also narrowly missed a 15-foot birdie try on the second playoff hole.
"Same thing on the second putt, hit it exactly where I wanted to hit it, and it just didn't break," she said.
A few minutes later in the second group, Korda made her birdie putt and won when Granada missed a 12-footer that would have sent the two back to the 18th tee.
"I was really calm," Korda said. "I knew what the putt did because I'd had it before and it did not move. I was a little higher up and more to the right. I knew the line, and I knew the speed. All I had to do was hit it.
"It started breaking. I thought, 'Oh, my goodness no, don't lip out, don't break too early.' I don't even know what side of the hole it hit. I was overwhelmed by everything."
Top-ranked Yani Tseng, the winner the last two years at Commonwealth Golf Club, was 1 under after a 74. She had a three-hole stretch Friday in her second-round 76 when she dropped six strokes with a quadruple-bogey 8 and two bogeys. She had a triple bogey on the par-4 fourth and bogeyed 15 and 16 Sunday.
"If I didn't have the two bogeys late, I probably still would have had a chance," Tseng said. "So it's good that I hung in there and fought back."