11 Elite NCAA Football Players Begin NFL Combine Training at IMG Academy
This week, 11 elite college football players arrived on IMG Academy's campus to begin their preparation for the most important job interview of their life. Over the next few weeks, these athletes will live on campus and train with IMG Academy's team of football and performance experts, who have produced over 80 NFL first-round draft picks, at their state-of-the-art facilities. IMG Academy's NFL Combine Training Program is designed to train, educate and prepare the players, and instill in them the confidence to not only dominate the NFL Combine and Pro Day, but establish a foundation for a lasting NFL career.
The training program provides the athletes with all of the tools that they need to excel at the 2017 NFL Combine, Feb. 28 – Mar. 6 in Indianapolis. The players will be working with the IMG Academy physical conditioning staff on improving their power, strength, speed and explosiveness, so that they can move faster, jump higher and further, and power through more reps during their final test. They will work with position-specific coaches on the fundamentals, and experience a mock combine to identify and develop strengths and weaknesses. In addition, the combine trainees will receive expert training in vision, nutrition, media and personal brand building, maintaining an NFL high-performance mindset, and physical therapy to keep them healthy. Throughout the entire training process, IMG Academy utilizes some of the most innovative technology in the country, like their Gatorade Sports Science Institute Lab and Motus Lab, to give their trainees an edge. Luke Joeckel, 2013 2nd overall pick, described his past training experience, saying, "It was a great experience at IMG Academy. I learned a lot because it was a different kind of training than I was used to doing. I enjoyed my time and improved in every area."
This year's group of athletes who chose IMG Academy as their NFL Combine training home is as follows:
Darius Hamilton, Rutgers
Josh Reynolds, Texas A&M
Jhajuan Seales, Oklahoma State
Josiah Price, Michigan State
Josh Dobbs, Tennessee
Kareem Hunt, Toledo
De'Veon Smith, University of Michigan
AJ Leggett, West Georgia
KD Cannon, Baylor
Alonzo Moore, Nebraska
Travin Dural, LSU
Learn more about IMG Academy's NFL Combine program:
Photo: Morgan Liber, IMG Academy
connect with us & get a guide
Contact Us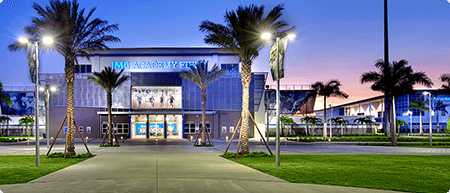 5650 Bollettieri BLVD.
Bradenton, FL 34210
Fill out the form below and we'll be in touch soon!
Request a brochure
We offer downloadable brochures about our boarding school, youth camps, adult programs, team training and pro/collegiate training in multiple languages.
Visit Us
Are you interested in touring the IMG Academy campus? Fill out the form below to submit a tour request and we will be in touch soon to confirm your request.