2014 Olympic snowboarding hopeful Michael Perle sees improvement in abilities at IMG Academy

Known as the "Sunshine State," Florida may be the very last place you would expect a Winter Olympic hopeful to train. However, Michael Perle, an accomplished snowboarder, is living proof of that statement.
With the 2014 Sochi Olympics less than a year away, Perle prepares mentally and physically for the most important season of his snowboarding career by training at IMG Academy.
"My brothers recommended IMG Academy to me because of their awesome facilities," Perle said. "While I have a personal trainer at home, I wanted to try something different. The trainers and nutritionists here have helped me accomplish new things."
As IMG Academy's Athletic & Personal Development (APD) program accommodates just about every sport, Perle has immersed himself into an intensive three-week APD program. He works with renowned IMG Academy physical conditioning coach Kevin Heiberger and other instructors in mental conditioning, nutrition, leadership and vision.
"The APD program is just an overall workout," Perle said. "It gets your entire body into shape and teaches you the mindset for your specific sport. All of the coaches and staff have helped me transfer the skills I've developed to snowboarding."
At 19, Perle can already see his body transforming and has noticed a measurable difference in agility, confidence, focus, skill and strength. Whereas the exciting snowboarding action is present during the season, much of the development to produce the best snowboarder is made in the pre-season.
"It's a lot more cardio than I do at home," Perle said. "I can definitely see changes in my body and feel myself becoming more fit."
From a mental aspect, the vision training has enhanced his reaction time from the gate drop in the beginning of a race and helped him avoid obstacles in his course down the mountain.
Furthermore, he has improved his peripheral vision to increase awareness of his competitors snowboarding alongside him.
Combining his advanced skill and background in training with his development at IMG Academy, Perle is on track to perform at an even higher level than this past season. In February, Perle won the Killington Nor-Am and the Sun Valley Rev Tour. The Saddle River, N.J. native also represented team USA at the 2013 FIS Junior World Snowboarding Championships, March 3-10 where he placed in the top-15.
Specializing in SBX but enjoying the halfpipe the most, Perle started competing in USASA-sanctioned events in 2004 as a ten-year-old. Having competed every year since, Perle has moved through the rankings and stands today as an Olympic hopeful. Perle graduated from the Stratton Mountain School (SMS) in World Cup Circle, Stratton Mountain, Vt and currently trains at the International Snowboard Training Center (ISTC) in Silverthorne, Colo.
"Going to SMS since the eighth grade has provided me with great opportunities for dry-land training," Perle said. "This includes strength workouts, gymnastics and yoga." 
Perle looks forward to attending New York University in the fall and applying his training at IMG Academy to his upcoming competitions in Chile and Australia on Aug. 7 and 19, respectively.
Photo by: Cindy Yu
connect with us & get a guide
Contact Us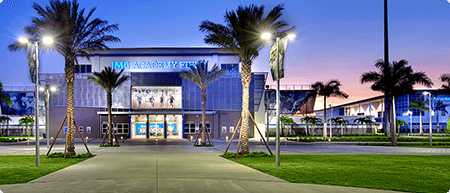 5650 Bollettieri Boulevard
Bradenton, FL 34210
Fill out the form below and we'll be in touch soon!
Request a brochure
We offer downloadable brochures about our boarding school, youth camps, adult programs, team training and pro/collegiate training in multiple languages.
Visit Us
Are you interested in touring the IMG Academy campus? Fill out the form below to submit a tour request and we will be in touch soon to confirm your request.