Additions to high school football coaching staff announced

After kicking off spring practices in preparation for its inaugural season, IMG Academy has announced additions to its high school football coaching staff.
"We made it a priority to assemble a coaching staff with experience at every level, and who are able to deliver the level of training that has made IMG Academy what it is today," remarked Chris Weinke, Director of Football and Head Coach, IMG Academy. 
The 2013-14 IMG Academy football coaching staff includes: 
Chris Weinke, Head Coach/Quarterbacks - Heisman Trophy-winning quarterback and seven-year NFL veteran Chris Weinke has served as Director of Football at IMG Academy since the program's inception in 2010. Weinke has helped develop countless youth, collegiate and professional players over the years, and will now serve as Head Coach and Quarterbacks Coach for IMG Academy's high school team. 
E.G. Green, Offensive Coordinator/Wide Receivers - E.G. Green played collegiately for Florida State University (1993-97), earning second team All-American honors, and spent three seasons with the NFL's Indianapolis Colts (1998-2000). Green, who spent last season coaching wide receivers at American Heritage-Plantation, will bring his extensive collegiate and professional experience to the program, serving as the Offensive Coordinator and Wide Receivers Coach. 
Joe Sturdivant, Defensive Coordinator/Linebackers - A two-time All-Conference USA selection as a defensive back for Southern Methodist University (2003-06), Sturdivant boasts both domestic and international coaching experience. Prior to joining IMG Academy, Sturdivant was the Defensive Coordinator for First Baptist Academy in Dallas, Texas (2009-10), before accepting a position as Head Coach and Defensive Coordinator of the German Football League's Marburg Mercenaries (2011). Sturdivant will serve as Defensive Coordinator and Linebackers Coach for IMG Academy. 
Michael Gruttadauria, Offensive Line - Gruttadauria played collegiately at the University of Central Florida (1991-94), and played professionally for seven seasons with the St. Louis Rams (1996-2000) and Arizona Cardinals (2001-03), earning a Super Bowl title as starting center for the Rams during the 1999 season. Gruttadauria joins the IMG Academy staff as Offensive Line Coach. 
Adam Behrends, Running Backs/Assistant Quarterbacks Coach - Behrends played collegiately at Minnesota State University Mankato before entering the coaching profession. Behrends joined IMG Academy in 2011, earning experience coaching both the offensive and defensive side of the ball, and now serves as Running Backs Coach and Assistant Quarterbacks Coach.  
Michael Hawthorne, Defensive Backs - Hawthorne played collegiately in the Big 10 for the Purdue Boilermakers (1995-1999), and spent six seasons in the NFL with the New Orleans Saints (2000-03), Green Bay Packers (2003-04) and St. Louis Rams (2005). Hawthorne will bring his extensive playing and coaching experience to the program as Defensive Backs Coach. 
Andrew Myers, Defensive Line - Before arriving at IMG Academy, Myers worked for the University of Minnesota football program, assisting the defensive coaches on the field, as well as with film breakdown, scouting reports, and weekly playbook and formation hit chart preparation. Myers will serve as Defensive Line Coach for IMG Academy.
Competing as an FHSAA Independent in 2013, the team will play its home games in the new IMG Academy Stadium, with the first home game slated for August 24.   
connect with us & get a guide
Contact Us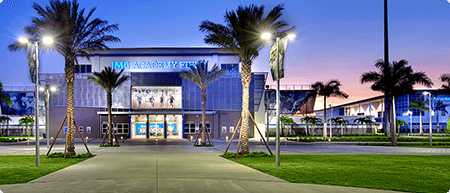 5650 Bollettieri Boulevard
Bradenton, FL 34210
Fill out the form below and we'll be in touch soon!
Request a brochure
We offer downloadable brochures about our boarding school, youth camps, adult programs, team training and pro/collegiate training in multiple languages.
Visit Us
Are you interested in touring the IMG Academy campus? Fill out the form below to submit a tour request and we will be in touch soon to confirm your request.