Anfernee Simons Drafted First Round to Portland Trail Blazers in 2018 NBA Draft
Joining seven other IMG Academy basketball alumni in the NBA, Anfernee Simons was selected as the 24th draft pick by the Portland Trail Blazers last night in the 2018 NBA Draft. Simons became the second player picked in the Draft straight from IMG Academy since 2015. A native of Altamonte Springs, Fla., Simons competed as a member of the IMG Academy Post-graduate National team in 2017-18. He helped lead IMG Academy to a 23-8 regular season record in route to the team's fourth invitation of the past five years to the National Prep Championship in Connecticut. On the year, Simons averaged 22.4 points while shooting 54% from the floor, and 45% from three-point range, in addition to 6.7 rebounds and 3.1 assists per game.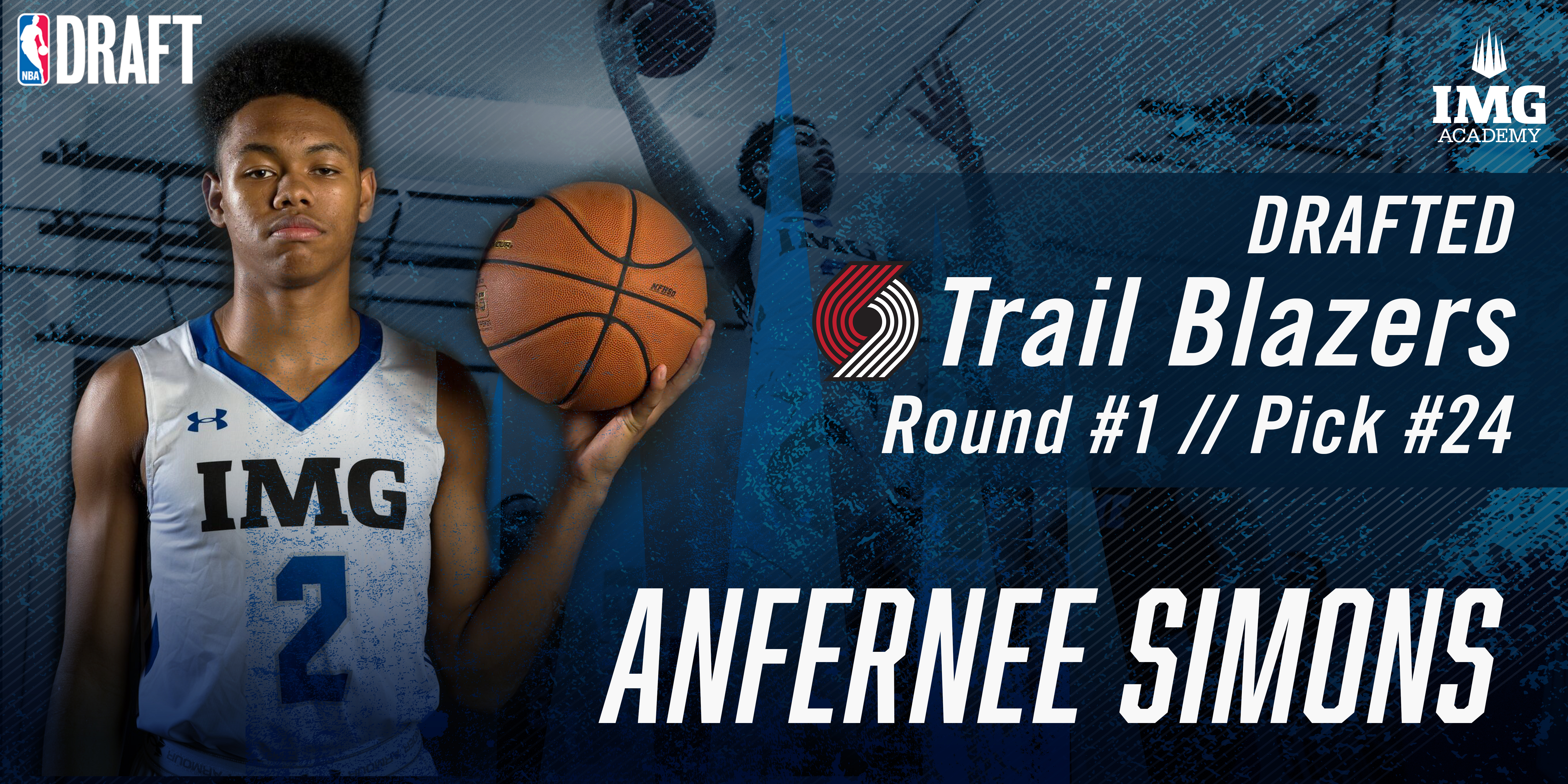 Simons' coach at IMG Academy, John Mahoney, understood his goals from his first day on campus and is incredibly excited for the entire Simons family.
"Anfernee has worked extremely hard for this moment and we are very happy for him and want to wish him the best of luck!" Mahoney said. "I'm extremely happy for Anfernee and his family. This has been a dream of his, and now he can make it come true."
Past IMG Academy alumni selected in the NBA Draft:
Ricky Sanchez - Class of 2005, 35th pick to the Portland Trail Blazers
Renaldo Balkman - 20th pick in 2006 to the New York Knicks
DeAndre Daniels - Class of 2011, Drafted from Connecticut in 2014 as the 37th pick to the Toronto Raptors
Dwight Powell - Class of 2010, Drafted in 2014 from Stanford as the 45th pick to the Charlotte Hornets (then Bobcats)
Chris McCullough - Class of 2014, Drafted in 2015 from Syracuse as the 29th pick to the Brooklyn Nets
Satnam Singh - Class of 2015, 52nd pick to the Dallas Mavericks
Jonathan Isaac - Class of 2016, Drafted in 2017 from Florida State as the 6th pick to the Orlando Magic
---
connect with us & get a guide